Modified cars could face MOT fail
EU rules could mean modified cars could fail MOT. Even for tow bar and stereo upgrades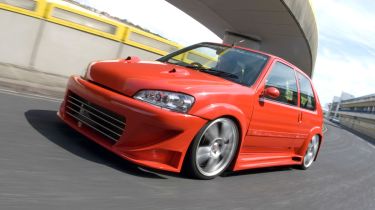 Cars with any kind of modification could fail an MoT if new EU rules get the green light from member states, a motoring group is warning.
The Association of Car Enthusiasts (ACE) says even aftermarket wheels or stereos would bring a fail, and mean cars would have to undergo costly, time-consuming vehicle approval testing before they could be considered roadworthy.
It's all down to an EU proposal to change the definition of the roadworthiness test so that "components of the vehicle must comply with characteristics at the time of first registration" – effectively outlawing any deviation from factory spec. ACE's Barry Cornes told Auto Express that under the current wording, "potentially something as minor as changing the stereo could result in an MoT failure".
AA technical specialist Vanessa Guyll said: "The AA is very worried about this. It seems completely over the top." She warned that the regulations would be too draconian even if watered down to include only parts that affect performance, safety or emissions.
Owners would need to buy expensive original parts – even for older cars. And models made by defunct brands, where original parts are no longer available, would have to go through vehicle approval testing after any repair.
Barry Cornes of the Association of Car Enthusiasts told us: "If this proposal becomes law in its current wording, then every car would have to stay as it was when it left the factory."
Cornes fears this will affect all car owners – not only those who go in for extensive modifications. "Unless parts of the ruling are relaxed, any change will make a car non-standard," he added.
"Even tow bars may be failures. If it's not factory-fitted or approved, you'd be forced to go for individual vehicle approval tests with the car."