A14 toll plans scrapped
A14 toll has now been scrapped & infrastructure will instead be funded by the Government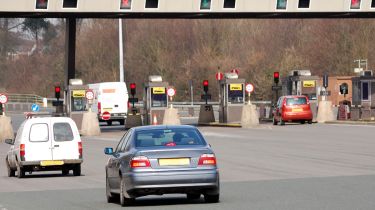 Proposals to create the UK's first road pricing scheme for a decade will not go ahead after plans for the new A14 toll road were scrapped. The £1.5 billion upgrade to the A14 in East Anglia will now be paid for by the government.
The project involves widening and improving the heavily congested 25-mile stretch between the busy port of Felixstowe up to the Midlands.
To pay for the works, motorists would have been charged between £1 and £1.50 for the privilege of using the 12-mile toll route. And the charge could have been doubled for lorries.
Confirmation of the tolling plans being ditched were made in the Government's National Infrastructure Plan 2013. The document claimed that after speaking to local users it had decided to drop the road charge.
The document read. "It (Government) has listened to concerns from local residents and businesses who rely on this road and, following a consultation, has decided to take forward a scheme which does not include a tolling element." 
Updates to the route are placed in the Government's top 40 list of investments, with plans to upgrade the road having gone on now for several years. 
The A14 toll plans would have made it the first since the M6 section between Birmingham and Wolverhampton opened in 2003.
RAC Foundation director Professor Stephen Glaister said the decision was a 'victory for common sense'. 
"Piecemeal tolling that would raise little money but create a lot of aggravation and delay was always going to be a hard sell," he said.
The A14 improvements were first proposed in 2010 but because of delays the cost has now risen by £200 million, according to shadow transport secretary Mary Creagh.
"The Government's half-baked plan to put tolls on the A14 would have caused chaos on local roads, worsened congestion and threatened jobs at the port of Felixstowe," she added.
Prime Minister David Cameron, quizzed by South Suffolk MP Tim Yeo in the House of Commons last week, said he understood the strong feelings in the county.
"I believe that road tolls can play an important part in providing new road capacity and it is important that we find ways to pay for road capacity," he said. "But I also understand the concerns about this individual case."
The comments came after MP Yeo asked if Cameron agreed there was a "risk that introducing tolls on roads without a toll-free alternative may undermine support for the sensible concept of road pricing".