Minimum parking bay size to be axed as cars get too big
Government set to give councils power to set car parking space sizes as current minimum size is too small for modern cars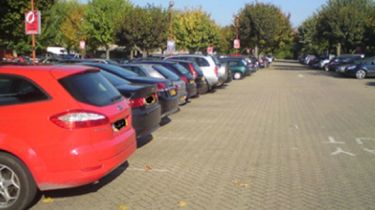 The minimum width of parking bays will be abolished by the Government because cars have become too big.
The size of parking spaces has remained the same since 1994 while car dimensions have continued to grow as extra safety features have been fitted.
The growing popularity of 4x4s and SUV crossovers have also contributed to the current bay sizes just not being big enough and drivers are increasingly being hit with unfair fines for parking over lines or having their cars damaged.
• Pump price fury as UK tops EU fuel tax table
Currently, parking bays on roads can be a maximum length of 6.6 metres and minimum of 4.5 metres, and a maximum width of 2.7 metres and minimum of 1.8 metres.
The Government is expected to consult on the plans to scrap the minimum size and allow local authorities to set the size of parking bays later this year as part of wider-reaching changes planned for traffic signs and road regulations.
However, MPs last night warned scrapping the size totally could see local authorities take advantage of their new powers to make spaces even smaller, forcing drivers into smaller eco-cars.
• Variable speed limits could help traffic flow in motorway roadworks
Conservative MP Sir Greg Knight, chairman of the all-party historic vehicles group, who raised the issue in Parliament, wants the minimum size expanded rather than abolished. He said: "We need to make sure money-grabbing, anti-car local authorities don't use this to try to replace 20 parking spaces with 25."
The AA backed up concerns that councils could exploit the relaxation of rules to make even more money from drivers.
"Some councils will try to maximise their opportunity and increase revenue by having more but smaller parking bays," said Paul Watters, head of roads policy for the AA. "It would not only mean more cars in the bays, it would mean if cars were 'overhanging' they would get more penalties."
• Nearly half of England's road markings need replacing
A Department for Transport spokesman said: "This spring the Government will consult on changes to traffic signs, which will also include proposals to relax the current stringent requirements for parking bays.
"No decisions have yet been made, but it is clear that individual traffic authorities are best placed to decide on the size of parking bays, not central government."