Entrepreneur builds private toll road
Motorists charged £2 a time use unofficial toll road after closure of main road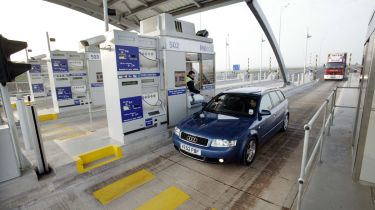 An entrepreneur has built his own toll road after he became frustrated at delays by the council to clear a busy commuter route.
The A431 between Bath and Bristol was closed following a landslip in February, and isn't expected to reopen until Christmas.
Sick of the delay, Mike Watts has now set up his own toll road, charging cars and lorries £2, while motorbikes have to pay just £1 to use the road.
• Driverless cars could be on the road by 2015
The road runs through a famer's field and is made of rolled chippings. Watts claims that the road will be open 24 hours a day, seven days a week. However, the road has not had planning permission or safety certificates.
Building the route has cost £150,000, and is expected to cost a further £150,000 in maintenance and management costs.
• UK Speed limit for lorries to increase
"We have got five months to recoup £300,000 but I am pretty optimistic we will achieve that," Watts said.
"We have really got to get 1,250 vehicles passing each day. Department for Transport figures for the last 10 years suggest in excess of 7,000 cars used the road each day."
The route is thought to be the first privately-run toll road in more than 100 years. However, Bath and North East Somerset Council has said that it did not support the road and is warning motorists not to use it.