UK speed limit for lorries increased from 2015
Safety concerns mean that HGVs on the UK's single carriageway roads will be able to travel at 50mph from 2015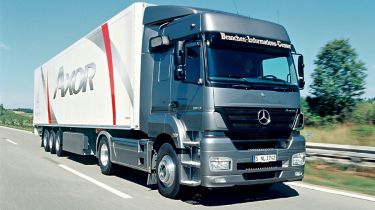 The speed limit for lorries on single carriageway country roads will be upped to 50mph under Government plans to stop dangerous overtaking and cut congestion.
Heavy goods vehicles - weighing more than 7.5 tonnes - are currently restricted to 40mph but this will rise from 2015, says the Department of Transport (DfT).
Lorries could also get a hurry-up on dual carriageways with a DfT consultation launched to raise the limit on these roads to 60mph from 50mph. The changes would see lorries travelling at the same speeds as coaches and caravans.
Ministers said the current 20mph difference between other vehicles and lorries is leading to hold-ups and causing drivers to carry out dangerous overtaking manouevres, especially on narrow country roads.
• UK's worst excuses for a hard shoulder motorway stop
The single carriageway changes will come into force from early 2015 and bring England and Wales into line with other European countries such as Denmark and Norway. If the consultation for dual carriageways gets the go ahead, the laws will change at the same time but until then, the existing limits continue.
Claire Perry, transport minister, said: "We're are doing all we can to get Britain moving and boost growth. This change will do exactly that and save our haulage industry £11 million a year.
"Britain has one of the world's best road safety records and yet speed limits for lorries have been stuck in the 1960s. Current speed limits for HGVs were introduced around 50 years ago and need to be updated given improved vehicle technology."
• Parking signs made simple: new design cuts through the confusion
Geoff Dunning, from the Road Haulage Association, said the move will be supported by hauliers and their drivers. He added: "The current limit is long out of date and the frustration it generates causes unnecessary road safety risks."
The announcement has been criticised by road safety charity Brake as it believes drivers are already using countries roads as race tracks. It recently revealed one in three drivers (33 per cent) admitted driving too fast for safety on country roads, by speeding, taking bends fast or overtaking.
Julie Townsend, deputy chief executive, said: "Put simply, when vehicles travel faster, it takes them longer to stop, increasing risk. It is very well evidenced that increases in speed equal increases in crashes and casualties.
"At the same time, the road safety justification for this move is dubious: we are not aware of evidence it will help tackle risky overtaking, which should be addressed through other means.
• Road Rage: the science behind it
"Pronounced speed differences between traffic can pose a risk, but the way to address this is by preventing car drivers going too fast, not speeding trucks up. The minister says she wants to get the country moving, but we ask at what cost to road users and the environment?"
Brake said it was concerned for rural residents "blighted" by fast traffic and for cyclists and pedestrians out enjoying the the countryside.
However, the DfT defended the decision to up the limit and said it was urging English councils to use local powers issued last year to impose tighter speed limits on roads that have heavy pedestrian or cyclist traffic or where the road has tight corners or blindspots.
The DfT also confirmed it'll be carrying out a major study into rural road safety in the "near future".
What to you think of the increased UK speed limit for lorries? Will it aid safety or make things worse? Tell us on Twitter, on Facebook or in the comments section below...