MPs want killer drivers to face manslaughter charges
Concern that offenders are being let off too lightly has led to call in Commons for stiffer penalties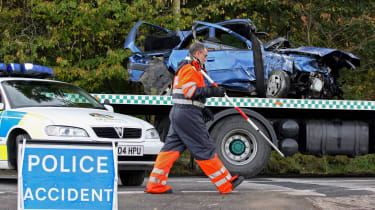 Ministers are calling for killer drivers to be charged with manslaughter to ensure they serve longer prison sentences. Under current rules, if a motorist is found guilty of death by dangerous driving, the maximum sentence they face is 14 years.
Now a number of ministers have called for the more serious charge to be introduced as part of the wider review of motoring offences due in 2015.
Talking in the House of Commons, Conservative Alok Sharma, MP for Reading West, highlighted a case in which an offender was driving a stolen car while disqualified and two-and-a-half times over the alcohol limit. He then hit and killed two cyclists and was given a prison sentence of 10 years.
• UK roads could get star ratings following report
Sharma added: "I also want to press for a change in the law to toughen sentences for dangerous driving."
Gareth Johnson, Conservative MP for Dartford, Kent, echoed this sentiment. "Will he [Sharma] join me in requesting that the Crown Prosecution Service considers charging with manslaughter far more often, rather than charging with death by dangerous driving?
"If a person causes someone's death by behaving in a grossly negligent or reckless manner anywhere else in society, they're charged with manslaughter," he said. "If that happens on the road, they are not."
• Government will spend £15bn on 'road revolution'
Minister for Policing, Criminal Justice and Victims, Mike Penning, said that he understood the reasoning behind a much longer sentence but that the issue centred around a question of intent.
"It is a question of whether the driver intended to go and do what they did. That is why the CPS tends to hold back from prosecuting for murder or manslaughter," he said. Meanwhile, Penning confirmed that the rule allowing offenders to serve driving bans while in prison would change and that these would start when their sentence ends.
Do you think sentences should be tougher for dangerous driving? Let us know in the comments below...