Major London roads to be 20mph zones
Boris Johnsons announces 20mph speed limits for London with Edinburgh, Manchester and Birmingham following suit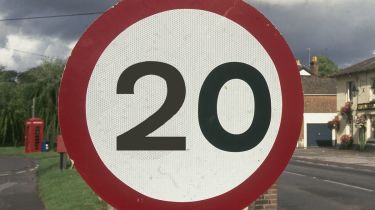 New 20mph speed limits will be introduced on eight busy London commuter routes in a bid to tackle road deaths.
London Mayor Boris Johnson announced the trials, which aim to cut speeds on all red routes that carry a third of the capital's traffic.
It follows Bristol's £2.3 million speed limit project in July 2012 - and Edinburgh, Manchester and Birmingham are following suit, too. Other cities and towns in the UK are implementing or already have go-slow limits as well.
• EU cops to hunt down speeding Brits
A quarter of London's roads are currently 20mph and a further speed cut will help London reach its road safety target: to reduce the number of people killed or seriously injured by 40 per cent by 2020, delivering a total reduction of 10,000 casualties by the end of the decade.
The speed limits are to be introduced by Transport for London under an 18 month experimental order and will be subject to detailed monitoring.
Traffic speeds, casualty data, safety perceptions and the number of cycling and walking trips would be monitored along with the effects on bus and traffic journey times, to assess whether to make the reduced speed limits permanent.
The first road to be slowed will be Commercial Street in Shoreditch. It runs in parellel with the whole Tower Hamlets borough moving to 20mph zones.
• Euro 6 emissions standards explained
The Mayor of London, Boris Johnson, said: "Lower speeds have the potential to significantly improve road safety while enhancing the environment for walking and cycling.
"As well as actively supporting and funding the installation of 20mph zones and limits on borough roads across London, we have also been looking at the TfL Road Network to see where further 20 mph limits could provide significant benefits.
"These locations will help us to better understand the role that 20 mph limits could play going forward."
The proposals have been backed by Matt Winfield, Sustrans London's deputy director. He said it was a bold move with wide-reaching benefits. He added: "Lowering the speed limit also helps to make our city a more comfortable and pleasant place to be.
• 10-minute leeway on council car park penalties
"Our research shows that Londoners are keener than anywhere else in the UK to walk or cycle to school if their route was on 20mph streets. On the back of these new trials I hope to see more London boroughs adopt 20mph."
Are you keen on 20mph speed limits? Let us know in the comments below...