UK car industry hits all-time high
Car production, jobs and exports all rise in UK while CO2 emissions go down as industry booms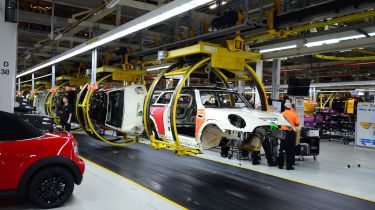 The UK car industry turned over a record £69.5 billion in 2014 with the average worker generating £440,000, according to the latest report from the Society of Motor Manufacturers and Traders (SMMT).
Vehicle production is at its highest since 2008 with the industry on track to produce 1.95 million vehicles in the next two years, aided by greater worldwide demand for UK-built cars than ever.
That's highlighted by the total export value for UK car manufacturing rising 1.8 per cent to £34.6 billion – a staggering 103.8 per cent uplift since 2000. It adds up to a considerable increase in the industry's direct contribution to the British economy, rising to £15.5 billion last year.
27,000 jobs created in 2014
Jobs are up, too, with 27,000 roles added in 2014 taking the total working in the industry up to 799,000. Investment in skills has also been crucial with employee training up by more than a third and some 500 new apprentices and trainees taken on by the sector last year.
The SMMT figures - which feature in its 16th annual Sustainability Report - also show workers are more efficient, too, with one new vehicle rolling off a UK production line every 20 seconds.
In each of the five years up to 2014, an average of 11.5 vehicles were produced for every person employed in the industry, compared with 9.3 vehicles from 2005 to 2009.
• UK Motorists don't trust used car dealers
5% reduction in CO2 emissions per vehicle built
While production is up, the industry is becoming greener. CO2 emissions per vehicle have reduced by five per cent year-on-year while energy and water use also dropped in 2014, further increasing the sustainability of the UK car industry. Total waste to landfill from all automotive production fell by more than a quarter in 2014, and an exceptional 92.3 per cent since 2000.
Mike Hawes, SMMT chief executive, said: "The UK automotive industry can be proud of its achievements as it continues to set new standards. The sector is delivering growth in volumes, turnover and employment, while reducing its environmental impact.
• UK Plug-In Car Grant to be replaced at end of the year
"Continuing to expand in a fiercely competitive global market is a major challenge and will depend on a supportive economic and regulatory environment which promotes investment to foster innovation and continuing productivity improvements."
Don't forget to follow the 2015 Auto Express new car awards live from 7.30pm on Tuesday 30th June.