Women charged 13% less for car repairs than men
A new study finds that women pay 13 per cent less than men for identical car repairs at UK independent garages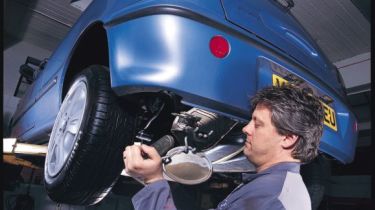 Women pay on average 13 per cent less for car repairs than men according to new research. The findings go against the belief that females are more likely to be ripped off by garages when getting their car fixed.
A 2011 Ford Fiesta in need of a service and repairs was used to visit 100 independent garages in the UK. The study by car insurer Sheilas' Wheels found men were quoted on average £106 for a minor service, 13 per cent more than women who were quoted £94 on average for the same job.
Surprisingly, the difference was even bigger for older people. Men aged 60 and over were quoted 32 per cent more to change an alternator than women of the same age. On average, the men were asked to pay £258, while the 60+ women were only asked for £196 for the work. Older men were also charged 26 per cent more for a basic service and 17 per cent more to fit a new set of brake pads than older women.
The study said: "Cars are becoming increasingly technical, which means most of us are in turn becoming less and less savvy about car maintenance - men as well as women. This means you can now be ripped off whatever your gender."
In 2015 Auto Express reported on a different survey by ClickMechanic that found women were charged on average £45 more for identical repairs than men.
Sheilas' Wheels spokesperson Elspeth Hackett, said: "Taking your car to a garage can be a confusing and costly experience – especially for those with limited motoring knowledge – and the imbalance of knowledge can lead drivers vulnerable to rip offs and sharp practice whatever your gender.
"Even if you have no knowledge of car maintenance, it can pay to arm yourself with as much knowledge as you can about your car when it goes wrong. It's best to search the internet for details about the problem and find out average costs – and then shop around at local garages to see what they would charge."
Do you think you have been overcharged at your local garage? Tell us in the comments below...