Asda drops fuel prices below £1 for Black Friday
Asda cuts petrol prices below £1 for a three-day spree, despite saying it would not partake in Black Friday discounts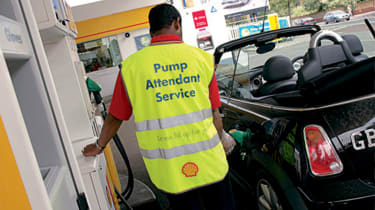 Petrol prices look to dip below £1 for the first time in six years as Asda joins the discount spirit of Black Friday by slashing its fuel prices. The retail giant will knock fuel prices by four pence across its 277 forecourts, with drivers expected to pay around 99.7 pence for a litre of unleaded and 103.7ppl for diesel.
The discount spree is to last until Monday, when fuel prices will level back above the £1 mark. Petrol prices will be 103.7 ppl and diesel is to be priced at 106.7 after the weekend.
The supermarket chain earlier said it would not partake in Black Friday, but has cut prices anyway.
Black Friday isn't the only incentive for forecourts to cut their prices – as oil continues to trade below $50 per barrel, and the fuel duty remains frozen under the Chancellor's latest budget.
The only time this year anyone was able to buy a litre of petrol below £1 was when a Harvest Energy fuel station in Birmingham priced unleaded at 99.7ppl for a short period.
UK motoring experts are hinting that motorists are likely to see more fuel stations slash prices. RAC spokesman, Simon Williams said: "Due to the latest dip in the crude oil price we had predicted that the most price-competitive fuel retailers would soon be selling petrol for £1, so it is great to see that landmark price is now available across the country at the most expensive time of year."
He also said: "Even though this promotion only lasts for three days it will help to bring prices down at forecourts nationwide. While we are some way from seeing the average petrol price reach £1, prices at more and more retailers should be getting ever closer to that figure."
Will we see fuel prices drop below £1 on more forecourts in the future? Tell us in the comments below...