Petrol prices hit a five-year low but there's further to go
Government under growing pressure to help motorists as experts say fuel prices are still too high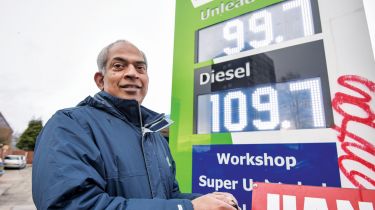 Petrol prices in the UK are at their lowest point for five years, with one forecourt having even dropped them below £1 a litre.
Yet Prime Minister David Cameron and Chancellor George Osborne have come under fire for not doing more to help out motorists. While they've called on oil companies to pass on wholesale savings to drivers, the amount taxed by the Government is at a six-year high.
• General Election 2015: who's on the side of motorists?
Currently, 70p of every £1 spent on petrol is destined for Whitehall coffers, and RAC Foundation director, Professor Stephen Glaister, said: "The Chancellor publicly urged fuel companies to pass on oil savings to motorists. Clearly he thinks the price of fuel is still too high. His easy solution is to cut duty further."
The average petrol price now stands at 106.8p per litre with diesel 114p, and the RAC Foundation estimates UK drivers are £330m better off each month compared to last summer because of it.
Prices are expected to keep falling, as supermarkets try to undercut each other. One retailer in the West Midlands took a stand against the price war, though, to show how costs are still too inflated.
Dr. Velautham Sarveswaran, who runs three Harvest Energy garages near Birmingham, dropped his petrol price to 99.7p per litre and still claimed he was making a profit. He told the MailOnline: "The supermarkets continue to make a fortune without passing the price cuts to their customers. It's a scandal. They are cheating people."
• Opinion: Young drivers are being priced off the roads by our 'leaders'
Those living in rural areas have a right to feel even more aggrieved, as petrol prices remain high. Better news is on the horizon, though, after a policy to offer a rebate to those in remote locations cleared a major European hurdle.
Currently, motorists in the UK's most remote islands get a 5p-a-litre Government reduction, and this will be extended to 17 mainland areas in the Scottish Highlands, North Yorkshire, Cumbria and Devon once it gets final EU approval.
Chief Secretary to the Treasury Danny Alexander said: "This is great news for motorists in these areas, as their cars are a necessity, not a luxury. I want to make sure we're ready to apply this as a top priority."
What are the lowest fuel prices you've seen in your area? Let us know in the comments section below...