New MoT system crashes, causing chaos across the country
The new online MoT system has experienced glitches, forcing garage owners to turn down drivers in need of an MoT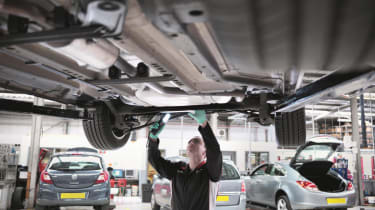 Garages across the country are being forced to turn down drivers in need of an MoT due to system glitches with the Driver and Vehicle Standards Agency's (DVSA) new cloud-based MoT platform. The DVSA is aiming to make the switch to a new online MoT platform in September 2015, where garages will be able to use apps to record the data on phones and tablets.
The new system is supposed to "simplify" the process of MoTs, according to the DVSA, but garage owners are finding the system crashing, branding it a "debacle". An unknown number of the 16,000 garages using the new system are affected.
• Car hacking: study shows over 100 models at risk
The problems have left garage owners turning down drivers in need of an MoT, or having to issue old-style paper MoT certificates. The problem with the old-style paper MoTs is that it does not get an online record until the system glitches are fixed – complicating issues when stopped by the police or selling a vehicle.
DVSA chief executive Alastair Peoples said: "We are aware there has been a delay in some MoT services due to an IT issue. We are working to urgently resolve this and minimise the number of customers affected."
RAC spokesman Rod Dennis said: "There are clear cost and efficiency benefits for the Government in encouraging motorists and the motor industry to do more online. This latest IT glitch will be starting to undermine motorists' confidence in the systems the Government is so eager to roll out."
Dennis also advised all motorists to: "Check the date of their next MoT, and not leave getting their car to the garage until the very last minute."
How to cut your car service costs: cheaper repairs, MOTs and servicing