Motorway fuel price signs on the way
DfT to trial signs on the M5 between Exeter and Bristol that should end high service station fuel prices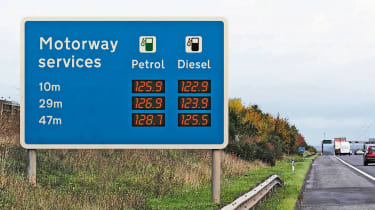 Rip-off fuel prices on motorways could soon come to an end under a new Department for Transport (DfT) trial to display up-to-date pump prices on roadside signs.
The trial will start at the end of the year, with digital signs displaying fuel prices from five different stations between Exeter and Bristol on the M5. A further three signs are planned to follow in 2016.
• UK smoking ban: everything you need to know
The DfT trial comes after research found motorway service stations charge up to 15p per litre more than forecourts elsewhere.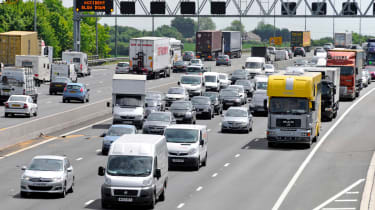 Service station prices differ wildly along the same stretch of motorway, too. Auto Express compared prices on the M4, and found a service station near Chieveley, Berks, charging 120.9p per litre for unleaded, while another station 70 miles further along the M4 was selling it for just 111.9ppl. On an average fill-up, that would see motorists saving at least £5 between the two stations.
• Dartford Crossing toll changes explained
A spokesman for the AA said: "What the trial will highlight is the growing need for fuel price transparency in the UK. Motorway service stations have a bad reputation for fuel prices, and those actually looking to save motorists money should be highlighted."
If the trial is a success, the Government will consider posting more signs along the entire 2,300-mile motorway network.
Do you think fuel price signs should be rolled out across the country's motorways? Join the debate in the comments!