Council reclassifies potholes to swerve repair bills
Scottish council Perth and Kinross has redefined the measurements for potholes in an effort to save costs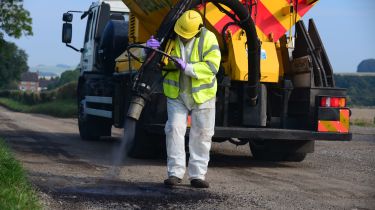 When is a pothole not a pothole? A Scottish council has redefined a pothole as a hole greater than 2.4inches (60mm) deep, 50 per cent deeper than the previous definition, in an effort to avoid road repair bills. 
Perth and Kinross Council has raised the definition of what a pothole is from a hole greater than 40mm deep to 60mm to help cut costs amid budget difficulties. The council hopes to save £120,000 as a result of attending fewer road repairs. 
• Pothole plague: one every mile in Britain
Controversially, the news follows a harsh winter that saw the state of Scotland's roads deteriorate even further. Breakdown provider RAC notes that Scotland saw the third highest year-on-year rise in the number of call-outs to vehicles likely to have suffered damage due to poor road surfaces. 
Between 2009 and 2014 Scottish councils have had to pay £2.7million to motorists whose vehicles had been damaged by potholes. RAC's latest report on motoring identifies that over 50 per cent of motorists feel the state of roads in their area has deteriorated, with 99 per cent citing an increased number of potholes and poor road conditions to blame.
• JLR pothole detection system
RAC spokesman Rod Dennis said: "It is a reality that councils are having to make some difficult decisions on where to cut spending. And despite the state of local roads being a priority for many motorists, spending on local road maintenance isn't ring-fenced, so there will always be a temptation to cut this particular line of the budget sheet.
"Committing to only fixing larger potholes is a false economy. The larger a pothole becomes, the greater risk it represents to road users and the more costly it becomes to repair. While in the short term the council might save money by repairing only larger potholes, it is saving up an expensive problem for further down the line." 
What do you think of the pothole problem? Have your say in the comments below...