Careless cops do £53k of damage misfuelling police cars
Police put the wrong fuel into vehicles almost 300 times in 2017, costing forces £53,000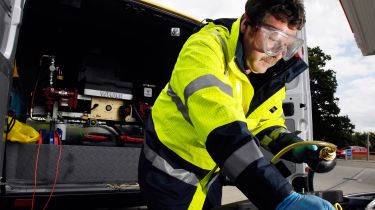 Police forces across the country put the wrong fuel into vehicles 299 times last year, generating repair bills of £53,000, new figures have revealed.
Officers from West Midlands police misfuelled the most cars, with 66 instances costing the force £3,737 in total. And while the Metropolitan police had fewer incidents, at 49, the cost to the capital's police was much higher, at £17,589. Police Scotland logged 16 misfueling incidents, for a total bill of £2,004.
• What to do if you put petrol in a diesel car
The figures, released to the Press Association following Freedom of Information requests, saw 40 of the UK's 45 police forces respond, with 33 admitting incidents of misfuelling in 2017.
Gary Mallett, fleet manager with West Midlands Police, said misuelling incidents increased when the force stopped using internal police pumps and switched to external garages in order to save money.
Mallett explained: "We saw a major spike in the number of misfuels in 2013-14 and addressed this by notifying users and local vehicle leads of the volume and cost of the mistake. We also labelled all vehicles with the fuel type as a reminder of the correct fuel that should be used." Mallett said these measures had reduced the number of misfuelling incidents by more than half.
• Tyre pressures and tread depths: your safety check guide
A spokesman from the Metropolitan police said the force filled up its vehicles 1.5 million times last year, meaning the total number of mistakes represented "a tiny proportion of total refuelling", adding that the rate of misfuelling was decreasing each year.
The National Police Chiefs' Council echoed those sentiments, saying: "The misfuelling of police vehicles is relatively rare, especially when you consider that forces have thousands of vehicles which are in constant use and require frequent refuelling."
Commenting on the figures, Edmund King, president of the AA, said: "Perhaps we need a little more detective work at the pumps to ensure that the right fuel goes in the right car."
Is this level of misfuelling an understandable mistake or should police forces be doing more to lower the number of incidents? Let us know in the comments...