Motorists to face a fuel duty hike following a Brexit
George Osborne has created an emergency budget which includes raising the fuel duty by five per cent to cover the cost of Brexit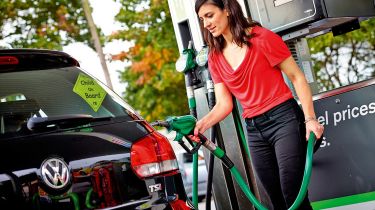 George Osborne is threatening to hit motorists with a five per cent higher fuel duty rate, while also raising other taxes and slashing the transport budget to plug a £30billion hole in public finances should the UK leave the EU.
Osborne will be joined by his Labour predecessor, Alistair Darling, in spelling out an emergency budget within weeks of a possible 'out' vote. According to the Institute of Fiscal Studies, a Brexit would cut £30billion from UK public finances, and Osborne is preparing to make up the deficit by reducing expenditure and raising taxes.
• In, out, Brexit, Bremain? what does the EU referendum mean for motorists?
The Chancellor is readying to slam motorists with a five per cent rise in fuel duty, along with raising the basic rate of income tax by two pence, and the higher income tax rate by three pence to the pound.
The transport budget would see itself reduced by five per cent following a Brexit, while police and local government funds would also see a five per cent reduction. Further hampering road repairs and policing. The NHS, defence and education budgets would also be reduced.
• 'In or out of the EU: it'll make no difference to motorists'
Osborne is hoping to cover half of the expected shortfall in public finances from raising taxes, and the other half by cutting expenditures. However, already 57 Conservative MPs have said they would vote against the budget.
Steve Baker, Conservative MP for Wycombe, said: "I am shocked that the Chancellor is threatening to break so many key manifesto pledges on which all Conservative MPs were elected. I could not support these plans to cut the NHS and increase taxes on hardworking families."
What do you think of Osborne's emergency budget? Tell us in the comments below...