T-junctions should be scrapped to help older drivers, says new report
A new Government-backed report says mini roundabouts should replace T-junctions to make roads more friendly for older drivers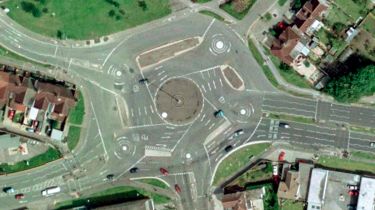 T-junctions should be replaced by mini roundabouts under new plans to make the UK's roads safer for older drivers, according to a new Government-backed report.
The research by the Older Drivers Task Force found fatalities on T-junctions increase significantly with age. Drivers over 75 were found twice as likely to die while navigating them. Conversely, fatalities on roundabouts were found to be fewer and not related to the age of motorists.
The average age of Britain's driving population has been increasing for years, thanks to improvements in healthcare and living standards that see more people continue driving longer. In 2014 there were 4.7million motorists aged 70 who held a valid driver's licence, but experts predict this number to rise to 8.5 million in the next 20 years.
• Practical driving test: top tips for passing
However, the report identifies a large number of pensioners are put-off by driving on roads that were "designed for use by, fit middle aged motorists in the middle of the spectrum of road users." It calls for a careful redesign of roads that would benefit not just older motorists, but all drivers. 
Ministers were told to consider greater use of segregated slip roads on motorways and A-roads, as well as using wider central lane markings and more traffic lights at crossroads and junctions. All these recommendations were associated with greater safety for the older motorist. 
Eye tests for drivers aged 60 and over
The task force also called for drivers to be given eye tests from the age of 60, and for the Government to increase the age at which drivers had to self-declare their fitness to renew their licence. Currently, drivers aged 70 have to renew their licence every three years. All applications require a medical self-declaration of fitness. The report wants to see the age limit raised to 75 and the renewal accompanied by an eyesight test rather than a self-declaration form. 
• Would you pass your driving test now
Transport minister, Andrew Jones, said of the report: "It calls for action from a number of sectors, including government, and we will consider the recommendations carefully."
John Plowman, chairman of the Older Drivers Task Force, said: "People are living longer, healthier, more active lives, and driving longer. The number of drivers over 85 will double to 1 million by 2025, many without access to public transport.
"This influx of older drivers has important economic and social value but it also presents road safety risks if we don't adapt. Getting to grips with these risks, without limiting the independence and freedoms of the elderly is an important policy challenge – one to be tackled by the appointment of a minister with responsibility for older drivers."
What do you think of these moves to make roads safer for older drivers? let us know in the comments below...