Rubbish idea: drivers encouraged to throw trash from cars into new bins
Drivers that recycle their empty bottles and coffee cups will receive 5p-vouchers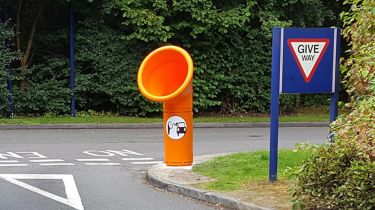 A new trial scheme that rewards drivers for placing rubbish in special bins on motorway service stations has been launched to help reduce roadside litter.
Services at Maidstone, Kent, will feature Britain's first ever recycling reward bins where drivers will be given a 5p-voucher for every empty plastic bottle or coffee cup they insert.
• Variable motorway speed limits under review
Researchers have measured litter level in the Kent services area for the past four weeks and will compare the impact of the machines over the next six months. If successful, they will be introduced at more stations across England's 1,800-mile motorway network.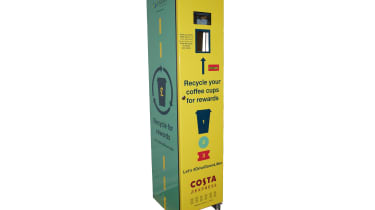 The trial is run by environmental charity Hubbub, and has received backing from Highways England, Shell, Costa Express and Road Chef.
Previous figures from Highways England revealed littering motorists cost taxpayers £8 million a year on average. Highways England said it collects roughly 550 sacks of rubbish a day from the strategic road network, at a cost of £40 per sack. It previously pointed out the cost of filling a pothole is also £40. 
Wayne Moore, Highways England service delivery manager said: "Litter isn't just unsightly; it can block drains and harm wildlife. Picking it up puts road workers in harm's way and is a distraction from other vital work they could be doing.
"We urge road users to take their litter home and are working with partners in local Government to find a longer-term solution."
Highways England trials new funnels to reduce road pollution
The recycling rewards trial follows a previous trial by Highways England that encouraged motorists to throw litter into special funnels with wide openings at 25 service stations across the North West. 
The 10-week trial of the funnel bins on Winchester services on the M3 showed showed 25 per cent reduction in roadside littering last year, Highways England said.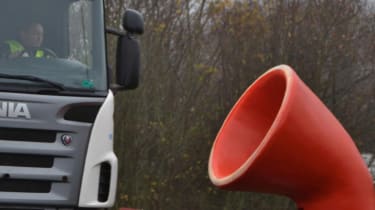 Campaign group Clean Up Britain founder John Read said: "This appears like a low-cost gimmick to try and pretend that Highways England is doing something about the massive problem of litter on motorways. Highways England just needs to do its job properly, and keep the entire motorway network clear of litter, not just 25 so-called 'hotspots'. The reality is that virtually the entire network is a litter hotspot." 
England's litter 'hotspots' revealed 
The problem of roadside littering is so bad in some parts of the country that Highways England dubbed them 'litter hotspots'. Since January this year, over 7,000 bags of rubbish have been collected from these 25 individual sites, which are often as small as a single slip road or junction.
England's litter hotspots
| | | | | |
| --- | --- | --- | --- | --- |
| M11 J9-6 | M25 (A3 spur) | M6 Corley Services | M62 J25-26 | M602 J3 |
| M1 J6-10 | M5 J3 | M6 Hilton Services | M62 J33 | M62 J12-11 |
| M1 J38-39 | M25 J3 | M2 J2-3 | M4 J19-16 | M65 J4-5 |
| M1 Donington Services | M25 (A1089 spur) | M621 J1-6 | A38 Plymouth Parkway | M60 J24-23 |
| M1 Trowell Services | M25 (A13 spur) | A1(M) J10-6 | M5 J18 | A2 Marling Cross lorry park |
A Highways England spokesperson said: "Clearing litter from busy roads such as motorways is a huge challenge costing time and money which could be better spent on other priorities. Every year we remove about 200,000 sacks of litter from across our motorways, at the cost of around £40 a sack – the equivalent of fixing a pothole.
"[Litter] is unsightly as well as a risk to wildlife and the environment, so we urge road users to take their litter home."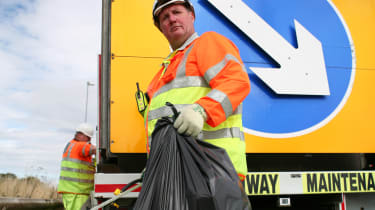 But campaigners have criticised the agency's litter plan for not being effective enough. John Read, founder of Clean Up Britain, said: "As required by Section 89 of the 1990 Environmental Protection Act, Highways England has a statutory duty to keep the network clear of litter, but is visibly failing to do that."
Rising cost of litter picking
A previous Auto Express investigation found that 364,000 bags of rubbish were collected in just three years, at a cost of £14.5million.
Partnership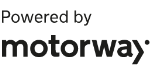 Need to sell your car?
Find your best offer from over 5,000+ dealers. It's that easy.
It means the annual cost of litter picking has risen 66% from £4.8 million to £8 million.
The numbers could only be the tip of the iceberg, too, as Highways England is only responsible for motorways and A-roads. A 2015 Department for Transport report suggested the total bill to taxpayers could be much higher when local roads across the UK are considered.
What do you think about the new funnel bins? Is it a rubbish idea? Have your say in the comments below...