A third of Brits already want to buy an autonomous car
Yet there are some who still find the self-driving car tech puzzling and would not feel comfortable stepping inside a driverless car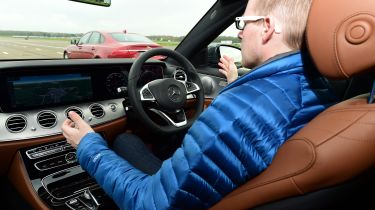 Driverless cars are slowly gaining the public's approval as a new poll reveals that a third of British motorists would like to buy one in the future.
A further two-thirds of motorists would feel comfortable being driven around in an autonomous car, the research commissioned by insurer AXA found. A lack of stress and not having to worry about traffic were cited by people as the biggest benefit of driverless cars. Autonomous cars not getting lost was also popular with nearly a quarter of all respondents.  
However, there are still some who will need convincing. Although 90 per cent of women currently don't find autonomous tech worrying, the remaining 10 per cent responded they would "never get in one", as they believed autonomous cars will never be as safe as human drivers. This is despite the fact that Previous studies have shown over 90 per cent of UK road accidents involve some human error.
David Williams, technical director at AXA Insurance, said: "It's thought that the reduction of accidents with driverless cars could be as much as 50 per cent and that can only be good news for road safety. Additionally, they will reduce congestion and provide alternative transport for those currently unable to drive.
"Lack of information often stokes people's fears – and a healthy dose of scepticism is to be expected. Indeed, in 1825 some people were so opposed to train travel that they said that it would be impossible to travel over 12mph without having 'the air sucked out of your lungs'."
What's your take on autonomous cars? Tell us in the comments below...