Kia calls for greater investment in UK hydrogen infrastructure
The call to invest more into hydrogen infrastructure follows a new report that says we could see 1.6 million hydrogen cars in the UK by 2030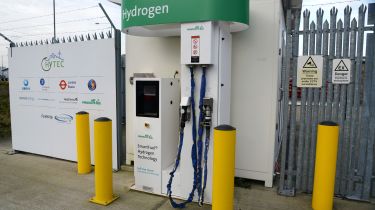 Kia has called on the UK Government to come up with a long-term hydrogen vehicle strategy that includes a clear timeline for infrastructure projects. This comes after a new report concluded there could be as many as 1.6 million hydrogen fuel-cell electric vehicles (FCEVs) on Britain's roads by 2030. 
The research conducted by the Centre for Future Studies found that in less than 15 years the UK car market could see more than 300,000 hydrogen cars sold each year, supported by 1,150 refuelling sites. There are currently just 13 operational hydrogen refuelling stations in the UK, with many reserved for University or research purposes, and eight planned for the near future. 
• Hydrogen cars: everything you need to know
Speaking to Auto Express about the report's findings, Paul Philpott, CEO of Kia UK, said: "We'd like to see [from the UK Government] some long-term strategy, with a clear timing plan for implementation."
"There's a lot of talk right now without any tangible plans for infrastructural change so that we can plan for our commercial introduction. It's longer term and tangible plans that'd we'd like to see."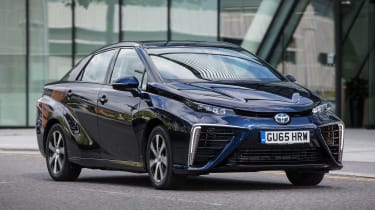 The South Korean company previously announced its ambitious plans to introduce 14 new eco-friendly cars by 2020 and that plan includes the launch of a hydrogen car. Before the car goes on sale, however, the UK will have to increase its hydrogen refuelling sites, as the current lack of options is partly what is driving consumers away from the technology. Toyota's Mirai hydrogen car, introduced last year, has only sold 26 models so far.
To date, the UK Government has announced a £2 million fund to encourage more businesses to switch to hydrogen vehicles, and previously invested £6.6 million to build 12 hydrogen refuelling stations across the country. 
But in comparison to other countries, the UK could be investing more. A Kia spokesman told Auto Express: "The Korean Government is committed to 40 hydrogen charging stations by 2020. This will provide sufficient geographical coverage for anyone to drive anywhere in the country." 
The report also identified that electric car sales could account for a third of new cars sold globally by 2041, with EVs outselling conventional combustion-engined cars as early as 2027. 
Do you think the Government should be investing more into hydrogen? Tell us in the comments below...