Kia preparing new hydrogen fuel cell car
Kia is focusing on hydrogen fuel cell tech in its drive to develop greener powertrains with diesel and full-EV taking a back seat for now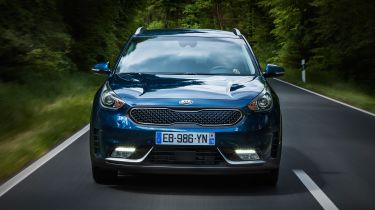 Kia is pushing ahead with building a new hydrogen fuel cell car as part of its push for more sustainable powertrains.
Speaking at an event at Kia's R&D centre in Namyang, South Korea, engineering boss Albert Biermann confirmed the project while discussing more performance-oriented electric powertrains. "Are we working on a Tesla fighter like everybody else? At this point I can tell you: no, we are not working on it. But I would not exclude this for all times - when the time comes we can just do it. We have our own eco powertrain development centre, and we're also developing a hydrogen fuel cell car for the Kia side."
• New Kia Rio to get sporty GT version
So while there's no powerful all-electric model on the agenda just yet, the brand is pushing ahead with alternative fuels like hydrogen. Sister brand Hyundai already has the ix35 Fuel Cell on the road, so we expect the Kia hydrogen car to use a similar system.
That means it could appear on the Kia Sportage SUV - the bigger size means there's more room to pack in the fuel cell and batteries needed for this kind of powertrain.
The Hyundai ix35's range of 359 miles and emissions of pure water only also indicate what we can expect from the Kia hydrogen fuel cell car. The biggest problem for both cars will continue to be the lack of filling stations, however, with only a handful around the UK currently.
Biermann told us that the group is working hard on cars like these partly because of the Volkswagen dieselgate scandal of 2015. "You know what's going on with diesel right now and I think it's better to focus on hybrid to make sure we have a sustainable car for the future," he told us.
This also means that we won't see a diesel in a performance context from the Kia GT or Hyundai N brands. "Five years ago I would have said yes to that," he said. "But today I would say no."
Now read all about Kia's new Rio SUV here...