Flat tyres are the top cause of car breakdown call-outs
The lack of a proper spare wheel in modern cars and a lack of driver knowledge contributed to 180,000 AA call-outs for flat tyres in 2016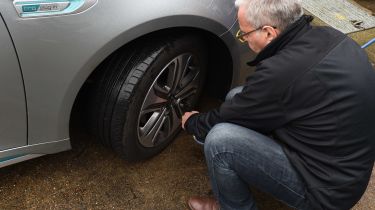 Scrapping spare wheels from the standard kit on new cars, combined with the rise of dangerous potholes on UK roads, has led to roadside breakdowns rising by almost 200,000 in 2016.
The AA recorded 3.63million calls last year, up from 3.45m in 2015. The breakdown provider said much of this was down to the fact more new cars have ditched spare wheels in favour of run-flat tyres or a bottle of tyre sealant.
Last year, the RAC and the AA attended nearly 180,000 calls where a motorist had a flat tyre, but had no spare. In fact, a third of new cars today are sold without a spare, as car makers look to save on space and weight. President of the AA, Edmund King told Auto Express he would like to see spares "as at least an option on new cars" to help prevent motorists from being stranded at the roadside.
Punctures are becoming increasingly common as motorists battle against failing roads (see opposite). The UK currently faces a 14-year backlog on pothole repairs, with the most recent reports showing a 19 per cent drop in repairs by local councils across England and Wales.
A survey of more than 25,000 drivers found 39 per cent had suffered tyre damage from hitting a pothole. The AA said the number of tyre-related callouts had steadily been rising, and is currently the top reason for a call-out – usurping battery faults at the top of the charts. To combat this, the RAC and AA have both developed multi-fit spare wheels that patrols can fit to 90 per cent of cars in an emergency.
King added: "Potholes often affect two tyres – front and rear on the same side – so if a car does have a spare, then the patrol's multi-fit wheel is invaluable."
King also pointed out that even drivers who own cars with a spare tyre aren't always able to change it by themselves, or don't have the basic knowledge of how to do it. "Big SUVs, for example, come with a tyre that can be too heavy for some people to lift, and they therefore call us for help," added King.
One potential solution is greater education for drivers on basic car maintenance, like changing a wheel. Neil Greig, policy and research director at IAM RoadSmart, said the skill should feature as part of additional driving tuition for motorists, although he ruled out including it as part of the driving test.
He told Auto Express: "Many drivers told us they often don't know much about how their car works and how to look after it. Changing a tyre is a life skill that can save valuable time sitting on the roadside waiting for help." Greig also said that there should be more help for motorists to look after their tyres, especially as the condition of UK roads worsens.
He added: "It's difficult today for drivers to properly look after their tyres. Garages and forecourts should offer more free air points so drivers can keep their tyres correctly inflated."
Opinion: Crackers Patel, RAC patrolman, on the problem of flat-tyre call-outs
Puncture repairs are the most common call-outs alongside cars that won't start, and they can prove time-consuming.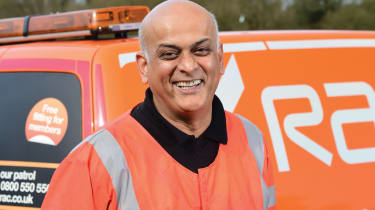 A lot of people don't even know if they have a spare wheel. They have a brand new car, and when you say this model doesn't have a spare, they roll their eyes. People assume it's the law to have a spare, but when they go to show you, there's a moment of realisation.
They feel they've been ripped off by the dealer, as nobody has told them there's no spare. Some people will have it happen once, and then with their next car they will specifically ask for a spare, even if it's only a space saver.
If they have a spare, people are more unlikely to attempt to change it these days, because they are scared of something going wrong. Sometimes they'll come across locking wheel nuts and won't know what to do. There's a fear factor, as well as a general lack of knowledge and confidence.
Get 10% off Motoreasy's tyre insurance with the code: AUTOEXPRESS10
Have you ever called the AA or RAC out to a flat tyre? Are you sorry? Let us know in the comments...