Charging six electric cars at once could cause local power outages
Britain's energy networks are in need of investment and improvement if they're to deal with future uptake of EVs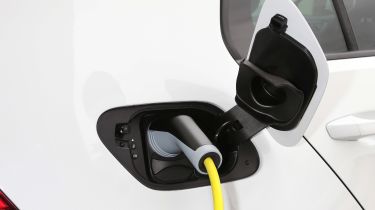 Just six electric cars charging at the same time on a street could cause local power shortages, according to a new study that warns Britain's energy system needs urgent investment to keep pace with EV uptake.
A report by Green Alliance said the country's energy networks are unprepared to deal with the growing uptake of electric cars and solar panels in the future. Unless there's investment in significant upgrades, the uptake of electric cars is a "recipe for disaster," as blackouts, inadequate generation at peak times and rising energy bills grow.
• Used electric cars: should you buy one
Already, "as few as six closely located vehicles charging together at peak times could lead to local brownouts." The report by Green Alliance said a single EV charge can use as much electricity as a household uses in three days.
Today, the 86,169 plug-in and electric cars on the road consume less than one per cent of the annual electricity output, however, by 2040 - when over 4.6 million EVs are forecasted on Britain's roads - electric cars could account for 7 per cent of total electricity demand, according to energy consultants Element Energy.
To avoid congestion and blackouts during peak hours, the Green Alliance urges the Government to invest in more smart chargers that can defer when cars are topped up, as well as invest in large-scale energy projects like generators.
Investments in public charging infrastructure will also be required, as Auto Express previously highlighted how the UK's electric charging infrastructure is rapidly falling behind electric vehicle uptake. The ratio of EVs per charger has grown from 0.78 to 7.34 in just four years. The European Commission previously suggested the maximum ratio to avoid charging blockages and congestion is one in 10.
The Green Alliance report warned: "The way the UK energy system is currently governed, this disruption is very likely to lead to future value destruction and grid defection. Both the power system and power markets are designed for unidirectional flows of electricity from large-scale generation to the transmission network, then to the distribution network and, finally, into people's homes.
"Power markets can be reformed and technologies regulated to create a cost effective, manageable system.This can only happen by first reassessing the role the government plays in determining the energy system."
Will you be buying an electric car in the future? Tell us in the comments below...