Severn Bridge tolls to be scrapped on 17 December
The move is estimated to save regular users £1,400 a year, and boost the local economy by £100m a year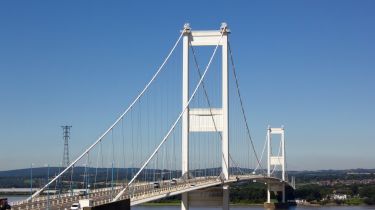 Tolls for the Severn Bridge crossing, which links England and Wales, will be scrapped for all vehicles on 17 December 2018, saving regular users £1,400 a year. 
The move is estimated to boost South Wales' economy by £100m a year according to Welsh Secretary, Alun Cairns, who made the announcement at the Conservative party conference in Birmingham.
"The principle of paying to come in to Wales is something that has irritated us for 50 years," Cairns told BBC Radio Wales.
The two bridges – one on the M4 and the other on the M48 – are used on average by 25 million drivers a year, and scrapping the fees could save regular users as much as £1,400 a year.  
• Dart Charge: how to avoid a Dartford Crossing fine
At present, it costs motorists £5.60 to cross the Severn Bridge into Wales in a car, while vans and small buses pay £11.20 for the privilege, and lorries and coaches pay £16.70. Traffic crossing in the other direction to leave Wales does not currently pay a toll, and crossing fees were reduced in January 2018 after the bridges returned to public ownership. The bridges' annual maintenance and operational bills run to an estimated £15m.
Commenting on the announcement, Jack Cousens, head of roads policy for the AA says; "The scrapping of the Severn Tolls this December is a Christmas present drivers heading to Wales are thrilled to receive. 
"Drivers in the South East will now hope that the Government extends this festive cheer by removing the tolls at the Dartford Crossing."
The Government had previously promised to axe the tolls by the end of the year. At the time this announcement was made, Cairns said: "The decision to abolish the Severn tolls...sends a powerful message to businesses, commuters and tourists alike that the UK Government is committed to strengthening the Welsh economy. 
"By ending tolls for the 25m annual journeys between two nations, we will strengthen the links between communities and help transform the joint economic prospects of South Wales and the south-west of England." 
Transport Secretary Chris Grayling said at the time: "Tens of millions of motorists a year will benefit from the end of tolls on the Severn bridges, saving them money and cutting journey times. Abolishing the crossing fee will also drive economic growth for businesses in Wales and the south-west and further strengthen the bond between our two great countries."
How regularly do you use the Severn bridge? Tell us in the comments below.