Road deaths rise puts UK behind most European countries
Road fatalities in the UK rose by four per cent last year prompting more calls for improved road safety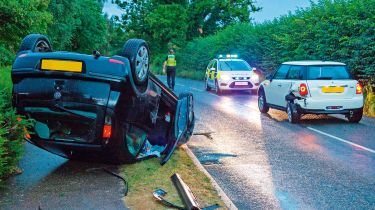 The UK has been found trailing most European countries in the push to reduce road deaths, with the number of people killed on the country's roads rising four per cent last year.
Figures from the European Transport Safety Council (ETSC) show 1,878 people died on UK roads in 2016, compared to 1,804 in 2015.
Since 2010 the UK has cut fatalities by just 1.4 per cent with only Luxembourg, Malta and Sweden making worse progress during the same period.
The highest fall in European road deaths last year came from Lithuania with a 22.3 per cent reduction, while the figure dropped 7.1 per cent in Germany and 4.6 per cent in Italy. But Spain saw a 6.4 per cent rise in fatalities between 2015 and 2016.
While reductions in road deaths in the UK have stagnated, it remains one of the safest places in Europe to drive. Last year there were with 3.5 deaths per billion kilometres travelled and 29 deaths per million people, the third and fourth lowest on the continent respectively.
The European Union set a target to halve road deaths between 2010 and 2020 but progress has stagnated in recent years with only half of member states seeing a drop in fatalities in 2016. Last year 25,671 people died on Europe's roads, compared to 31,595 in 2010.
The ETSC is calling for better funding for road safety programmes as well as streamlining emergency service response chains across member states.
The ETSC report on road fatalities stated: "Since 2014, progress has virtually ground to a halt. The political will to improve on this poor progress is important. The lack of it at EU member state level has contributed to a decline in levels of police enforcement, a failure to invest in safer infrastructure and limited action on tackling speed and drink driving in a number of countries.
"At the EU level there has also been a conspicuous lack of action. Minimum EU vehicle safety standards have not been updated since 2009 despite rapid advances in vehicle crashworthiness and new technology that can help drivers to avoid or mitigate the consequences of collisions."
Do you think the UK Government should be doing more to increase road safety? Tell us in the comments below...