A third of all company cars to be electrified in four years
Fleet managers believe a third of all company cars will be EVs or PHEVs by 2022, rising to half by 2027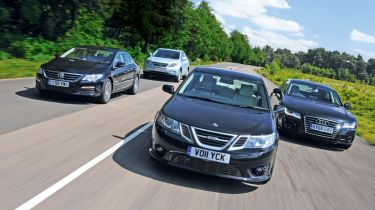 A third of all company cars will be electric or plug-in hybrid by 2022 according to fleet managers across the UK, a new study has found. By 2027, that proportion is expected to grown to 50 per cent.
Despite recent increases in popularity, alternatively-fuelled vehicles only account for 5.2 per cent of new car sales currently, but 53 per cent of all new cars sold in the UK last month went to company fleets and a significant shift in trends is on the horizon. Changing legislation – including increased taxes on diesel cars and the announcement that all new cars must feature electrification by 2040 – means two thirds of fleet managers said they were nervous about buying a car without an electrified powertrain.
• Best company cars to buy now
But PHEVs and EVs present their own issues for the company car managers who were responsible for purchasing over a million vehicles in 2016 and whose fleets comprise an average of 124 cars. Of the 150 managers interviewed by Kia for the study, 55 per cent said the UK's current charging infrastructure wasn't good enough. However, with battery life and charging infrastructure expected to improve by 2021, and fleet managers said they could operate electrified vehicles in their range within four years.
For managers not currently operating electrified vehicles, 41 per cent said they thought PHEVs and EVs looked unprofessional, while 27 per cent said they considered they were too expensive, and 20 per cent admitted they didn't understand enough about the technology.
Autonomous cars are also set to feature more heavily in company car fleets. At present, 23 per cent of managers said they had "assisted driving" vehicles in their fleet, a proportion expected to increase to 51 per cent by 2027. Fleet managers expect autonomous cars to help reduce accident rates, along with repair costs.
The average fleet had 10 accidents reported in the last year with each costing £472.72 to repair, while in 2015 managers said their fleets had an average of 14 accidents, but each cost £384.50.
Kia's fleet boss, John Hargreaves, said: "As more and more organisations embrace new technologies for the vehicles in their fleets – from EVs/PHEVs to 'assisted driving' and 'semi-automated driving', traditional powertrains are becoming less likely to be considered the default option in fleet purchasing decisions. Organisations that can address and overcome the concerns they have with fully-autonomous driving technology stand to benefit greatly from its adoption."
Do you think EVs are set to become the UK's company car of choice in 4 years? Let us know in the comments...