"Car buying hasn't changed much in 50 years… until now"
The opening of Hyundai's Rockar showroom could signal a shift in the way we buy cars to a new online model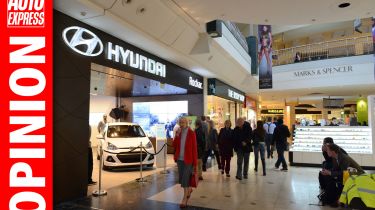 Bluewater shopping mall in Kent: it's not usually the sort of place I tend to spend too much time in – for me shopping is one of the things the Internet was invented for. But I popped down there this week to see Hyundai's new Rockar showroom, just along from M&S and right next door to a Body Shop that's more interested in face creams than car repairs.
Actually, showroom is probably the wrong word – this is a retail experience as far removed from the traditional out-of-town dealer as you can imagine. There are no salespeople, just 'angels' for whom commission would be a dirty word, while large touchscreens and giant video walls replace pot plants and daunting desks. You can even take a test drive or get your car serviced, all while popping to John Lewis or going to the cinema.
Sure, cars in shopping centres are nothing new, but this is a permanent addition to Bluewater's retailer roster, signed up with a 10-year lease. Apparently it's an expensive place to sell cars – somebody whispered to me that the space costs four times that of a usual showroom – but Rockar's haggle-free deals are still a fair few quid below Hyundai's list prices, which, when bolted in to the manufacturer's low-rate finance deals, start to look pretty attractive.
You don't even have to visit Bluewater to buy – you can do the whole deal online through Rockar's rather fancy website. It'll be interesting to see whether other dealers follow that online model. So will this new way of buying work? Only time will tell, but one thing we know for sure is that as much as we all love our cars, buying them is far from the best bit. That's why I'm so excited by this new venture – it's about time car buying changed.
Would you be happy to buy a new car online without ever visiting a dealership? Let us know on Twitter, on Facebook or in the comments section below...