Family options
Which makes the most sense for ferrying you, the kids and all your gear in 2007: the latest people carrier, off-roader or estate?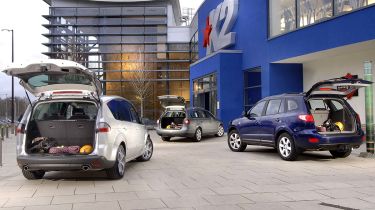 Modern family life can be an uphill struggle, as any parent will tell you. And when it comes to transport, ferrying kids, their friends and all the associated gear around is pretty tough – in fact, it's enough to drive you up the wall.
But thankfully, this task has been made a little easier, because there has been a proliferation of cars designed to suit the needs of parents and child­ren alike – and that choice isn't limited to a single bodystyle, either. The traditional estate has been joined by the MPV and even the SUV in offering all the key elements for family transport: space, practicality and flexibility. The question is which is the best?
We have brought together one of the finest of each breed to find out. First up is the Ford S-MAX. Although it was recently beaten in a road test by the new Citroen C4 Picasso (Issue 939), this car's sheer size and driver-friendliness make it a more rounded product than most people carriers. Plus, it's equipped with Ford's Fold Flat Sys­tem seating, which allows 32 different layouts. Another class act, this time in the compact SUV sector, is the excellent Hyundai Santa Fe. It's the only car in the category to come with seven seats, and is a more spacious and affordable car for families than Land Rover's Freelander. It's a true alternative to an MPV.
As is the Volkswagen Passat Estate. Admit­tedly, it seats only five, but the huge load area and VW's legendary reputation for solid build quality mean it can't be discounted.
There's no denying that all three of our contenders are front runners in their respective fields. But we want to widen the brief and discover which is top of the pile: the off-roader, people carrier or conventional estate?
Verdict
Families are spoiled for choice in today's new car market. All three models are spacious and practical with good road manners and comfort. It's a close call, yet one has to finish last – and here it's the Passat. It's a fine load-lugger, cost-effective, powerful and good to drive, but like so many estates, lacks the family-friendly features and attention to detail of SUVs and MPVs.
The Santa Fe is one of the very best family cars money can buy. The seven- seat layout is excellent, plus it's large, smooth and very well mannered. It's only let down by slight cost-cutting in a few areas. So it's the S-MAX that comes out on top. Cleverly conceived and brilliantly executed, the Ford has very few weaknesses in any area. Families need look no further.