Audi A4 vs rivals
Audi's latest A4 promises much. Can it deliver as it meets rivals from BMW, Mercedes... and Ford?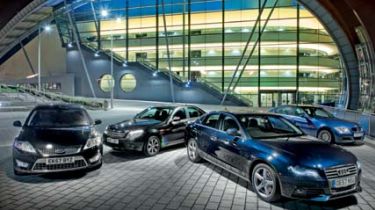 BACK when the first copy of Auto Express hit the shelves 20 years ago, Audi was a much smaller firm. In 1988, it sold 18,586 cars here.
Last year, though, it broke the 100,000 barrier for the first time in the UK. Cars such as the R8, Q7 and A5 are pushing the brand into fresh markets, but the A4 is still its biggest seller. And the launch of a new version is vital for the marque's continued success.
Here we test the latest A4 against two key rivals – popular 2.0-litre diesel versions of the BMW 3-Series and Mercedes C-Class. Also lining up alongside these premium saloons is the Ford Mondeo. It's no compact executive, but we think it's good enough to mix it with such upmarket machines – and may spring a few surprises.
Verdict
THIS test was very closely fought. All three German saloons are great compact executive cars, while the Mondeo was far from disgraced. But the Ford is at its best in more affordable trims, and despite its superb chassis and unrivalled practicality, its engine failed to shine and it has weak residuals. This leads to the highest running costs. It finishes fourth – yet can hold its head high.
Next up is the C-Class. Its air of refinement means it will be a top choice for many, but it's pricey, and material quality continues to lag behind Audi's and BMW's. The 3-Series remains a fierce competitor. Its excellent chassis, brilliant engine and Efficient Dynamics package make it the top choice for keen drivers.
However, it's no longer our class leader. The new A4 is a revelation – it's great to drive as well as being refined, desirable, practical, beautifully built and well priced. Audi's UK sales graph looks set to continue climbing for a while yet.