Sporty SUV shoot-out
Does hot new SR model add a dash of fun to Toyota's RAV4? We find out as it takes on the sporty Peugeot 4007 Irmscher...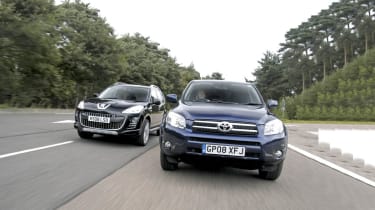 You don't hear the words 'high performance' and 'diesel off-roader' mentioned in the same sentence very often. But these two newcomers from Toyota and Peugeot claim to justify exactly such a description.
Both seek to combine the traditional SUV virtues of practicality and space with a welcome dose of sporty styling and driver appeal. Each car comes with striking new looks and hot hatch-rivaling power outputs – but which of these quick 4x4s is better?
When the RAV4 appeared in 1994, it pioneered the mid-size family off-roader. Now in its third generation, the Toyota has to contend with a raft of new rivals – including the Peugeot 4007. Both these cars provide classic soft-roader appeal, with practical cabins and a high driving position. Plus both offer go-anywhere ability, as four-wheel drive and locking differentials come as standard.
In a segment not noted for handling or acceleration, the RAV4 SR180 aims to redress the balance. Pumping out a class-leading 175bhp, it's targeted at drivers wanting decent pace to go with their SUV's versatility.
The 156bhp Peugeot can't match the Toyota for power, but can it provide a challenge here with its sporty Irmscher add-ons and outstanding seven-seater practicality?
Verdict
This was a closely fought contest. If sharp handling is your top priority and you have no need for the Peugeot's extra people-carrying ability, you won't be disappointed by the RAV4.
As well as impressive handling, the SR180 offers attractive styling, punchy performance and soothing refinement. It is in a small niche serving up an element of driver appeal in a mid-size off-road package. But considering how much less practical it is than the Peugeot, we would expect it to be a lot cheaper.
For all the RAV4's virtues, it is the 4007 that'll appeal more to family car buyers. Despite having less power than the Toyota, it put in a strong performance at the test track. It also counters the RAV4's handling advantage by riding more smoothly. Add in the roomier, more practical interior, along with the distinctive looks of the Irmscher model, and you have a winner.