Pocket rockets road test
Renault's Twingo hot hatch takes on the Suzuki Swift. Can it restore pride for the maligned city car?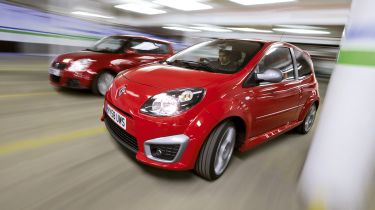 The smaller the French hot hatch, the bigger the fun! If that rule of thumb rings true, the Renaultsport Twingo should be an absolute firecracker.
And it needs to be. So far, the company's city car has failed to impress us. Lacking the charm and versatility of the Nineties' original, the latest Twingo has struggled to assert itself against established rivals.
Having been toughened up from urban runaround to rapid hot hatch, it's now ready to fight back. With a 131bhp 1.6-litre engine, revised suspension, a chunky bodykit and £11,550 starting price, the newcomer looks to deliver thrills to buyers on a budget – and recapture the spirit of flyweight legends such as the Peugeot 205 GTi.
We've upped the ante even further, as our test car comes with the optional Cup pack. The extra £650 adds 17-inch alloys, a lower ride height and stiffer springs. Standing between the Twingo and success is Suzuki's Swift Sport. Take a peek at its spec sheet, and it's clear the Japanese hatch could have been used as a template for the Twingo. Similar in size, performance and price, it represents a tough test for the newcomer. So has Renault done enough with this sporty makeover to earn its Twingo some Renaultsport stripes?
Verdict
Right from the start this was going to be a close-run result. With our two contenders so closely matched on price, performance and driving fun, it was going to be difficult for one of them to take a significant lead.
What's in no doubt is that the hot hatch treatment has helped Renault rescue the reputation of the Twingo. The newcomer is fun to drive and, while not to all tastes, it looks distinctive. Adding the Cup suspension is essential, and turns the Twingo into a fitting member of the excellent Renaultsport range.
But it's the rounded talents of the Suzuki that allow it to score a narrow victory. While it can't quite match the Twingo for outright thrills, it's a car you can live with on a daily basis. Grown-up looks, excellent build and an extra dose of refinement all help it win, while the £11,915 list price is the icing on the cake.