Three-door or five-door?
Which is the better buy: a three-door or five-door? We rate both variants of a trio of top hatchbacks to deliver our verdict...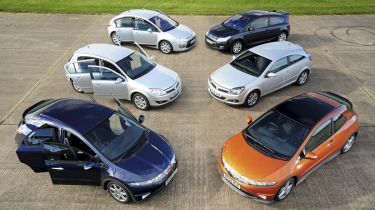 It wasn't long ago that a three-door model was an extravagant choice. Second-hand values were much higher for practical five-door cars – and this wiped out any initial cost saving you might have made by going for the more stylish alternative.
However, that was then: the latest three-door versions of big-selling family hatches have been given a new lease of life.
Manufacturers now go to great lengths to make them look and feel different, with sportier styling and glitzy ads. While they still sell in lower numbers, stronger second-hand values have turned the old situation on its head.
Many three-doors in this sector now represent better investments than their five-door relations. To see how they compare, we've lined up three pairs of popular hatches – and crunched the numbers to see how much you could save in terms of depreciation.
Kicking off our test is Citroen's C4. It was one of the first cars in the current crop to differentiate the styling of its three and five-door variants – and a revised version has just arrived.
Vauxhall took a similar approach with the Astra, but is the three-door Sport Hatch a wiser buy than the standard five-door? Last but not least is our class champion: the Honda Civic. How do its different bodystyles measure up?
Verdict
If you carry passengers in the back on nearly every trip, the latest generation of sporty three-door family cars probably isn't for you.
However, for the rest of us, three-doors have never made better sense. Not only are these stylish models typically cheaper to buy than their five-door stablemates, but the chances are they'll be worth more when you come to sell!
To make the decision even more simple, you rarely have to sacrifice space or rear legroom – ease of access is the only consideration. Be sure to do your sums before you buy, but it seems that when it comes to doors, less is more.