Stop-Start Shoot Out!
Stop-start technology is car makers' latest buzzword – but just how clean and efficient is the latest wave of models? We visit the UK's most congested city to rate seven of the best...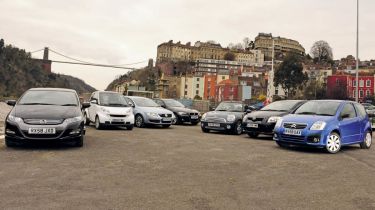 Cars with stop-start technology are available in every shape and size imaginable. But where do you test seven of the newest stop-and-go models around?
Bristol, famous for the Clifton Suspension Bridge, has the worst traffic congestion in the UK outside London, according to the AA. And that makes it the perfect place to put the latest stop-start cars through their paces.
With our location decided, all we needed was a line-up to prove there really is a stop-start model to suit every budget. We selected seven cars to represent every major market sector.
Leading them off is Smart's ForTwo. With its new micro hybrid drive (mhd) system and tiny engine, it should be at home on city streets. Following it is the revised Citroen C2, with an automated manual gearbox to make urban driving easier.
Our supermini choice is one for sun worshippers as well as eco warriors – the new MINI Convertible has arrived in time for summer, and gets emission-busting stop-start technology. So does Toyota's latest Auris – and it also has a new 1.33-litre petrol engine. Will it be able to deal with Bristol's morning peak?
This is the first time we've tested Honda's all-new family hybrid, the Insight. It lines up next to VW's spacious Passat BlueMotion. For executive car buyers, we've brought along the BMW 320d, complete with the company's class-leading EfficientDynamics hardware.
The differences between our cars mean we won't pick an overall winner – we just want to see how they cope with a rush-hour drive through one of the UK's busiest urban centres.
Verdict
To test our stop-starters, we travelled from London on the M4 to Bristol, and then put them through a two-hour peak-time crawl in the city centre.
We expected the small vehicles to perform best, but the larger cars turned out to be the ones to watch. While we're not picking a winner here, VW deserves a special mention for its price, space and economy.
Micro car ForTwo The tiny Smart had a jerky gearbox, limited practicality and an economy figure of only 36.7mpg – not great.
City car C2 On face value, Citroen is a great city car. But you can get better mpg and kit with a C2 HDi for the same price.
Supermini MINI A long drive with the roof down affected our overall return, but the MINI did well in town and is fun to drive.
Family car Auris The Toyota feels short on power – hence its 28.7mpg figure. The 1.3 did better in town than on the motorway.
Large Car Passat VW topped economy table, at 46.8mpg. It's roomier and more refined than rivals, and that price looks good value.
Compact Executive 3-Series The surprise of the test – the BMW's urban returns were amazing and it's real fun, with polished dynamics.
Hybrid Insight Great economy of 45.1mpg, but the hybrid's quirky looks and cheap cabin jar in this company of cars.