New VW Eos vs Megane CC
Winter rain will soon be gone, so which will be this summer's top coupe-cabrio: the new VW Eos or Renault's Megane CC?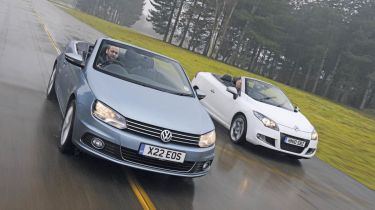 Come rain or shine, British buyers can't get enough of convertibles. Despite the constant risk of inclement weather, more drop-tops are sold in the UK than in most other European countries.
The VW Eos has been one of the very best. With its clever five-piece folding roof, good looks and four-seat layout, it served up a strong blend of open-air thrills and comfort.
But there was room for improvement, and bosses have pulled the wraps off a revised version. Featuring styling tweaks and greater refinement, the new Eos has its sights set on class honours.
Better still, it gets VW's efficiency-boosting BlueMotion kit, which will cut fuel returns and emissions. We test the newcomer in 2.0 TDI SE BlueMotion Technology guise, which will cost you £24,570.
For an extra tenner, you can have a Renault Mégane C-C in range-topping GT 2.0 dCi 160 trim. The French car has a lot to prove after its defeat by the Audi A3 soft-top.
As a result, the firm has added more standard kit and lowered prices. With its punchy 158bhp 2.0-litre diesel engine, the C-C will give the Eos a stern test. So which of our two contenders will be sunning itself on top of the podium?
Verdict
Competition in the folding hard-top sector is hotter than ever, which means these two models need to be on top of their game to succeed.On the face of it, the Renault stands a strong chance. With its punchy performance, impressive standard kit and decent price, it's not without appeal. The trouble is, the whole package is let down by the ungainly looks and clunky roof mechanism. High
CO2 emissions and lower fuel returns seal the C-C's fate as runner-up in this test. Glance at the Eos and you'll struggle to tell it apart from its predecessor. But spend time with it, and you're sure to be impressed. While the VW isn't the most glamorous car in the sector, it does feel like a premium product. Better still, its five-piece roof is a work of art, it has composed driving dynamics and it should be cost effective to run. Victory is assured.