Escort RS Turbo
The famous RS badge is fitted only to the quickest, most driver-focused Fords – and the Escort RS Turbo is no exception.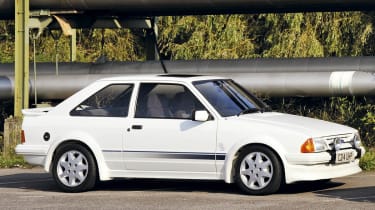 Ask any fast Ford fan what their favourite two letters are, and they're certain to be RS. The famous badge is only fitted to the quickest, most driver focused models in the firm's line-up – and the Escort RS Turbo is no exception.
One of the fastest hot hatches of its day, the RS was developed with motorsport in mind. It was the first ever front-wheel-drive car to get a limited-slip differential, while its 1.6-litre engine was turbocharged to give 132bhp.
This special Escort was marked out by its distinctive all-white paintwork, large rear spoiler and supportive seven-spoke alloy wheels. Inside, there's a pair of Recaro seats with distinctive blue piping. On the road, the RS is as eye-opening to drive as it is to look at. There's blistering overtaking pace and bags of grip in the corners.
Better still, the raspy exhaust note is joined by a characterful whistle from the turbo under hard acceleration. However, the unassisted steering is heavy and the special front diff causes violent torque steer, even on smooth surfaces.
Fast but flawed, the RS Turbo is a true old-school hot hatch, and giving it entry into our top 20.
* Performance: 3/5 * Heritage: 2/5 * Style: 2/5 * Driver appeal: 3/5
Vote for your favourite fast Ford here, in our exclusive reader survey
Details
Model tested: Escort RS TurboChart position: 20