BMW M135i vs Mercedes A45 AMG video review
Premium car manufacturers have entered the hot hatch market, first up, BMW M135i vs Mercedes A45 AMG in this video review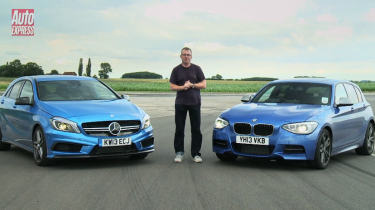 Premium car manufacturers have traditionally stayed away from the hot hatch market, but that's no longer the case. In this video review we test the BMW M135i against the Mercedes A45 AMG - with a 2.0-litre turbocharged engine it's going to be a stern rival for the BMW.
The BMW gets a six-cylinder engine, revs to 7000rpm but peak torque is at just 1300rpm, so it has instant power. It does come in manual, but we've got the eight-speed automatic gearbox. We took it around our track in just 1 minute 14 seconds.
As for the Mercedes, it's £5,000 more expensive than the BMW, so that's something to consider straight away. It's got 40bhp more, but the same torque. It's a 2.0-litre turbocharged engine, and a dual-clutch gearbox. It's four-wheel drive, meaning body control is really good around the corners - but, on the flip side, the ride is quite stiff. It did beat the BMW around the track though, in a final time of 1 minute, 13 seconds.
So, which hatchback comes out on top? If you want the fastest against the stopwatch, with amazing body control, choose the Mercedes. But, if you want to spend less money and have more fun, go for the BMW. See our video review and make your own decision.