Next Corvette to debut at the Detroit Motor Show
Chevrolet has confirmed it will unveil its all-new Corvette at Detroit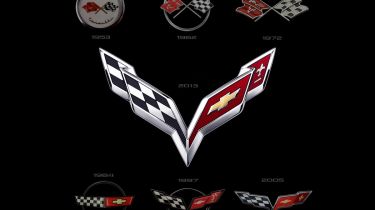 The seventh-generation Chevrolet Corvette is set to make its debut at the Detroit Motor Show in January 2013. To mark the official announcement, Chevrolet reveled a new 'Crossed Flags' logo which will adorn the new Corvette.
"The all-new, seventh-generation Corvette deserved an all-new emblem," said Ed Welburn, GM vice president of global design.
"The new Crossed Flags design reflects the character of the next Corvette. The flags are much more modern, more technical, and more detailed than before – underscoring the comprehensive redesign of the entire car."
Talking about the all-new car, Corvette Chief Engineer, Tadge Juechter, said, "With the new Corvette, we set out to build a world-challenging sports car with design, refinement, efficiency and driver engagement that is second to none.
"The result is a truly all-new Corvette. There are only two carryover parts from the C6 used in the C7 – the cabin air filter and the rear latch for the removable roof panel."
The next Corvette is expected to feature a range of new engines, in addition to an improved version of the flagship 6.2-litre V8. A 5.5-litre V8 will be available, while a new, all-alloy twin-turbo V6 will be added to the range at a later date. The new Corvette C7 will arrive in the UK in mid-2013 .
The Crossed Flags logo has been a hallmark of the Corvette since it was first introduced as a concept car on 17 January, 1953 at the GM Motorama in New York City.
Chevrolet claims that more than 100 variations of the new Crossed Flag emblem were considered before the final design was selected.