Chevrolet Kalos Hatchback review (2005-2008)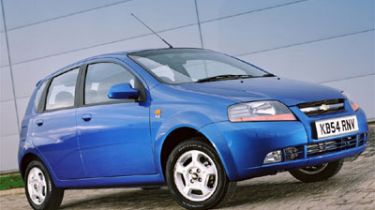 The Kalos first broke cover at the Geneva Motor Show in March 2002 as a Daewoo, the production version differing only in detail from that show car. It's clear that when it was designed they took close look at the competition in this class, the Kalos offering all the space of its numerous rivals, its simple, unfussy dashboard working well, even if the materials aren't exactly what you'd call tactile. Legroom is good front and rear, while headroom too is ample, in either three or five-door versions. A high driving position gives you a good view of the road ahead, particularly around town, which is the most likely habitat for the Kalos.
When it was launched the Kalos impressed, but the addition of superb rivals like the Fiat Panda and Kia Picanto have lessened its appeal. The tinny sounding doors and lacklustre performance from the 1.2 and 1.4-litre petrol engines let the side down. Its mixed image as a result of its mid-life change to Chevrolet does little to add to its desirability either. The ride is compliant - the suspension resisting roll through the corners, but its gearshift is vague and the steering offers little in the way of feel. Its specification might include ABS, power steering, electric front windows, front and side airbags central locking and Chevrolet's impressive service and warranty package, but it's not really enough to make the Kalos a credible alternative to newer rivals. They cost much the same, drive with more verve and come from brands that most consumers have some real experience of making the Kalos something of an also ran in this increasingly competitive class.
Engines, performance and drive
0
MPG, CO2 and Running Costs
0
Interior, design and technology
0
Practicality, comfort and boot space
0