Chevrolet Tacuma (2005-2008) review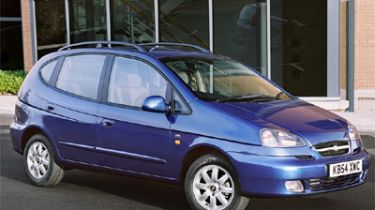 Aiming to take sales from the Renault Scenic and a whole bunch of others, this offering from Chevrolet, the Tacuma, follows the compact MPV recipe to the letter. It initially impressed with a generous specification list that included ABS, twin airbags and remote central locking on all models, but even town cars are offering this as standard these days so it's now nothing special in the compact MPV class. Two petrol engines are available in 1.6 and 2.0-litre capacities both proving solid rather than spectacular, struggling when faced with inclines or when loaded. A diesel option has been expected for ages now and is desperately needed.
Once moving the Tacuma provides an able drive, with nicely weighted steering, good grip and a decent ride. It's not quite as cheap as you might expect and newer rivals have really shown the Tacuma the way in regards to interior style and packaging. Okay, it features all the neat touches such as drinks holders and cubbies that are so important in vehicles of this type, but it's let down by the high boot sill and awkward parcel shelf. As with much of the Chevrolet range, the Tacuma is something of a transition model, waiting to be replaced by a proper Chevrolet, rather than a re-badged Daewoo. When that happens it'll likely offer seven seats, and if Chevrolet gets it right then with its attractive pricing and after sales support it should be a winner. But until then the Tacuma isn't really worth considering against the impressive competition.
Engines, performance and drive
0
MPG, CO2 and Running Costs
0
Interior, design and technology
0
Practicality, comfort and boot space
0