Citroen to leave WRC unless rally cars go hybrid
Citroen says is will be forced to leave the World Rally Championship after 2020 unless electrification tech is introduced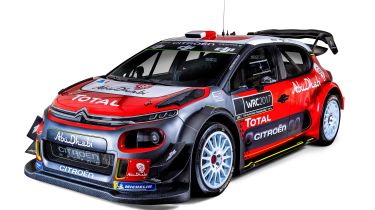 Citroen is unlikely to stay in the World Rally Championship beyond 2020 unless the sport's rule makers introduce some form of electrification into the sport's top category, the company boss has warned.
The French manufacturer has a long history in the WRC, including nine world championships with Sebastien Loeb, and it won the opening round of this year's series after signing the reigning champion, Sebastien Ogier, for this year and 2020. 
• Geneva Motor Show 2019: News
However, speaking to Auto Express at the Geneva Motor Show, Citroen boss Linda Jackson said the company would have to reconsider its participation in the sport if the current rules - based on 1.6-litre turbocharged cars and four-wheel drive - don't evolve to include at least hybrid power.
When asked if the firm would reconsider its participation beyond the end of Ogier's deal, if electrified cars aren't introduced by then, Jackson told us, "I think the answer to that question is yes. Because everything is changing and I don't see how as a manufacturer I can continue to support something that is without any reflection of what's going on in society. If we're talking 2021 or 2022, we're working hard to comply with CO2 regulations on our road cars, and making sure our road cars have electrified versions.
I know there are discussions on what the WRC could become - hybrid, electric or a mix - and for me that's very important. It is hard for me to consider something that doesn't pay any attention to what's going on in the wider society."
"With the C3, I can make the link; I don't have a sporty version of that to support the WRC campaign, true, but I can get awareness and impact, and that's great. But the more you widen the gap between the types of cars in WRC and what's going on in our range, with electrification, the more it's simply a marketing tool. And then you're using something not necessarily right with your brand." 
Motorsport's governing body, the FIA, is currently consulting on a move to electrified cars when the existing rules are set to expire - at the end of 2021. That timeframe could mean that as in 2016, Citroen might take at least a year out of the series before rejoining when hybrids or electric cars take over.
Would you like to see hybrid tech in WRC cars? Let us know in the comments...