DS confirms six-car range and faster flagships
Boss of Citroen's upmarket DS brand promises three all-new models, faster variants and a bold plan for exclusive dealerships
Citroen's standalone DS luxury arm will grow to offer six models, Auto Express can confirm. Speaking to us at the 2014 Paris Motor Show, DS CEO Yves Bonnefont confirmed the focus will be on larger saloons and SUVs, which will be geared towards the highly lucrative and fast-growing Chinese market.
"We have a growth strategy for DS, to double the range from three products to six," Bonnefont said. "Today in Europe we have three models: the DS3, DS4 and DS5. In China we have three locally produced models – the DS5, the DS5 LS and DS6 – and we will add three global products that are sold in the UK and China. Bigger models are where the [profit] margins are, and we will focus on 200 megacities around the world."
The DS CEO then detailed how the new brand's dealer network will form. "DS would not be the success it is, with 500,000 cars sold, if it was not for the strength of the Citroen dealer network," he explained. "It would be crazy not to continue to use these assets, but we will have three different formats.
"Firstly there will be 'DS Stores', which are dedicated to the DS brand. Then we will have 'DS Salons' – a 200-square-metre space in a Citroen dealership with different décor and lighting and specially trained staff for a dedicated DS experience. Finally we have 'DS Corners' – similar to what we have today, with a small area for DS models. We will roll out these three formats in the next three to five years. In China, we will have 100 DS Stores by next year – right now we have 66."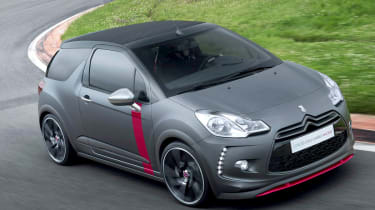 Bonnefont then outlined his plans to offer higher-performance versions of DS models once the main family is established. "With DS we want to have our own territory," he said. "Many of our premium competitors have a focus on brutal mechanical power, but that is not a trend in the market. We believe that the market is evolving differently, and we want to combine avantgarde design with luxury and technology.
"This will be the core territory of the brand, but then we will have sporty version[s], like the DS3 Racing, because I believe it is important to have sporty versions in the range. We do not want to position the brand with sportiness being the core trademark of DS, but all the cars in the DS range will have a sporty version."
Bonnefont refused to be drawn on the details of future DS Racing machines, including the likelihood of using hybrid power for electrically-boosted acceleration.
A Citroen spokesman also confirmed that the company has committed to race the DS3 WRC once again in the World Rally Championship in 2015, but a decision has yet to be taken over whether the DS3 will continue to fight VW and Ford for rally honours in the second half of this decade.