Citroen DS3 Cabrio Racing review
The Citroen DS3 Cabrio Racing certainly has exclusivity on its side, but is it worth the high price?
The Citroen DS3 Cabrio Racing has got style, performance and exclusivity on its side. It's not a raucous hot hatch like the Fiesta ST but it feels like a much more grown up product than that, plus it's got the soft-top roof, and that's something that the competition doesn't have. But if you're looking at what you can buy for this money there are some seriously talented hot hatches leading the Cabrio for outright speed and fun. The Racing is far from a bad car, in fact it's actually pretty good, but it's just that bit too pricey.
If you want an exclusive convertible, you wouldn't necessarily head straight to Citroen, but only 10 of these DS3 Cabrio Racing cars will be coming to the UK. In this case exclusivity costs £29,305, so is it worth it?
Citroen has already done a standard hatchback DS3 Racing and introduced a convertible concept version at the Goodwood Festival of Speed last year. Based on positive feedback, Citroen decided to introduce the Cabrio to market, producing 200 in total. Just like the hatchback, it has a 1.6-litre turbocharged engine, boasting 207bhp.
Citroen hasn't done anything to tone down the Racing's looks for this soft-top version. All cars come in a stylish matt black finish, with gloss black alloy wheels and a gloss black grille. There are red accents on the side, and in the alloys, while the updates continue inside, too.
A set of great-looking racing seats are the centrepiece, alongside a carbon fibre finish to the centre console and a matt black strip on the dashboard. The standard sat-nav screen is upmarket, and so is the majority of the cabin design, but a cheap-feeling red sticker in front of the passenger is a bit of a let down.
On top of all the styling upgrades you'll get a few performance tweaks over a standard DS3, too, including 15mm lower, stiffer springs and Brembo brakes at the front. Out on the road it translates to a car that feels quick, but not in the same kind of boisterous way that a Ford Fiesta ST does. Performance is manageable but there's always plenty in reserve, with 0-62mph taking 6.5 seconds.
Even on the standard-fit 18-inch wheels the ride isn't too uncomfortable. Again, it's nowhere near as compromised in this respect as the ST, boasting the more composed, comfortable setup showcased on something like the Peugeot 208 GTi.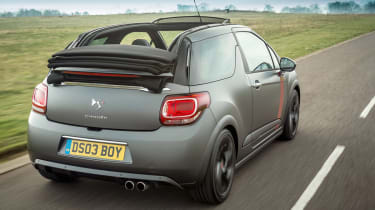 That more relaxed nature seems to suit this new soft top. Like the standard Cabrio it's more of an extended sunroof than it is a proper convertible roof but it's nice to have the option to peel it back when the sun is shining, no matter what speed you're travelling.
The handling is pretty sharp, thanks to the nicely weighted and responsive steering. Turn the wheel and you'll notice it's slightly lacking in feedback, but the chassis has plenty of grip and once you do reach its limits, there's a certain playfulness and adjustability there that the best hot hatches require.
But the issue with this car was always bound to be its price. It sits almost on its own in terms of being a hot hatch convertible but buyers looking to spend this kind of money have got the likes of the VW Golf GTI and BMW M135i to consider. The Cabrio Racing is good, but it's not good enough to compete with models like that.