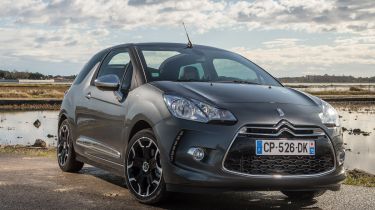 Like the Fiat 500C, the new Citroen DS3 Cabrio is arguably not a proper convertible – as its fabric folding roof only peels back at the top, leaving the B and C-pillars intact. But this mechanism adds to the considerable appeal of the DS3, and is sure to build on its sales success.
Citroen has carried over the same road tax-friendly engines, which promise low fuel consumption, while there are the same well equipped DSign, DStyle and DSport trim levels. And buyers who don't mind adding to the already high price can give their car a personal touch, customising everything from the body colour and wheel design to the finish of the roof.
That roof folds away in seconds, at speeds of up to 75mph, to reveal a high-quality interior with just as much space as the hatch, as the dimensions are near-identical. Few problems have been reported with the regular DS3, so this is likely to be the case with the Cabrio, too. Plus, although the folded hood can restrict rearward visibility, the fact it sits on top of the bodywork means boot size hasn't been compromised – the DS3 Cabrio offers 245 litres of space. It also has the same five-star Euro NCAP safety rating as the hatch.