Citroen DS3 Cabrio vs MINI Convertible
We find out if the new Citroen DS3 Cabrio or MINI Convertible is the better choice for top-down motoring this summer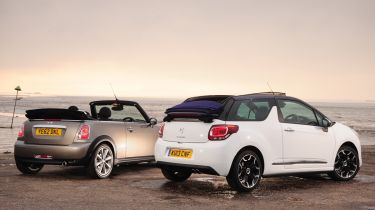 Sub-zero temperatures, biting winds, drifting snow... you wouldn't exactly say that spring has sprung. But you can't blame Citroen for looking at the calendar and thinking that now is the perfect time to launch a new convertible.
The Citroen DS3 Cabrio joins the standard hatch in the line-up. But rather than go for a fully folding convertible roof, Citroen has given the DS3 Cabrio a canvas centre section that peels back to expose passengers to the elements.
In this test, we've lined up the flagship 1.6 THP DSport against the MINI Cooper S Convertible. The MINI has a fully folding canvas roof, while a more powerful engine cancels out the effect of its extra kerbweight.
Can the DS3 Cabrio offer the open-air thrills of a full convertible? We reveal all.
Verdict
Despite the UK's variable weather, convertibles are still a popular choice with car buyers. And these supermini-based models are great if you want a car to have some fun in the sun.
The Citroen DS3 Cabrio is intriguing. It carries a hefty £2,650 premium over the DS3 hatch, which is more than the pricier MINI Cooper S Convertible commands over the Cooper S hatch. And in some ways, you don't get as much for your money, because the folding top is more like a giant sunroof, and it doesn't give you the full convertible experience. That might be attractive for some buyers, but others will have the lingering thought they're not driving a 'proper' convertible.
Aside from the roof, the rest of the car is largely identical to the standard DS3 hatch. That means it's roomier than the MINI, has a far more useful boot – as long as you can live with the extremely narrow opening – and it's nearly as engaging to drive in DSport guise, thanks to the punchy turbo engine.
However, if these attributes were your priority, you'd be looking at the DS3 hatch in the first place. Convertibles are more about the feelgood factor, and when the sun is shining, the MINI will put a bigger smile on your face every time. It's a close-run thing, but the MINI takes the win.