Electric car sales targets to remain despite delay to petrol and diesel sales ban
The government commits to the ZEV mandate from 2024, as the auto industry renews calls for taxpayer incentives for private EV sales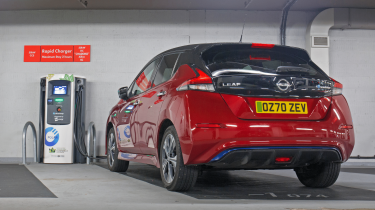 The UK government has confirmed it still intends to introduce the so-called Zero Emissions Vehicle (ZEV) mandate for car makers next year, in spite of delaying the ban on petrol and diesel sales from 2030 to 2035.
The ZEV mandate will set out minimum annual targets for sales of vehicles with zero tailpipe emissions, as a percentage of each manufacturer's total sales volume. Failure to meet the targets, which are expected to become increasingly stringent with each passing year, will result in manufacturers facing fines of up to £15,000 per vehicle.
There has been no public statement on the ZEV mandate yet from government, but speaking after Rishi Sunak's controversial announcement on the petrol and diesel ban on Wednesday the chief executive of the Society of Motor Manufacturers and Traders, Mike Hawes, stated that the Prime Minister has confirmed that details of a ZEV mandate to compel the sale of EVs will be announced shortly, to become effective from January 2024.
Describing the mandate as "the single biggest mechanism to deliver net zero", Hawes repeated the auto industry's call for taxpayer-funded incentives to help drive his members' sales figures. Research published earlier this week by the SMMT revealed strong take-up for EVs by fleet customers, with company car drivers enjoying major company car tax benefits for transitioning away from petrol or diesel. However, EV demand among private customers is falling back, with the SMMT saying consumers lack financial incentives to purchase and that the government should intervene.
"Manufacturers will continue to put innovative new models on the market but consumers need encouragement to buy more than ever," said Hawes. "Today's (20 Sept) announcement must be backed up with a package of attractive incentives and measures to accelerate charging infrastructure to give consumers the confidence to switch. Carrots move markets faster than sticks."
While details of the ZEV mandate have yet to be confirmed, the Financial Times reports that only "modest tweaks" will be made to the proposals circulated previously, in spite of the postponed ban on internal-combustion sales.
That means manufacturers will be expected to make 22 per cent of their sales zero-emission vehicles, rising to 80 per cent by 2030. The FT says we can expect full details of the new mandate in the coming days.
Want the latest car news in your inbox? Sign up to the free Auto Express email newsletter...