End anti-pollution 60mph motorway speed limits, say campaigners
Trial scheme reducing motorway speed limits to 60mph to tackle pollution has overrun, despite lack of evidence over effectiveness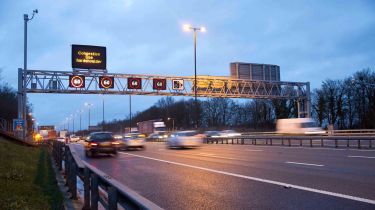 A pilot scheme where motorway speed limits are reduced to 60mph in an effort to tackle pollution should be ended, campaigners have said, unless evidence can be produced that it's making a positive difference.
Stretches of the M1, M6, M5, M4 and M602 are currently subject to a speed limit 10mph lower than is standard for motorways as part of a trial by National Highways to study the effect of a 60mph speed limit on nitrous dioxide emissions.
The scheme was supposed to last between 12 and 15 months, but it has now gone on for more than two years, with National Highways having published no evidence of its efficacy.
Furthermore, National Highways' data modelling does not take account of particulate matter pollution from braking, the Telegraph reported, while electric vehicles – which produce no tailpipe emissions – are also subject to the lower speed limits. National Highways has previously justified the latter point by claiming it would be dangerous to have different speed limits for different vehicle types, even though HGVs, for example, are limited to 56mph on any road.
The ongoing 60mph limits have reportedly irritated drivers who already spent years driving at restricted speeds due to smart motorway upgrade works. Sir John Hayes, a former roads minister, told The Telegraph: "Air pollution is a real concern, but the relationship between speed or traffic and pollution is complex. When you have congested traffic, emissions grow.
"It's hard to legitimise the argument that the difference between 60mph and 70mph is significant in terms of emissions, but I'd be happy to look at the facts. They've got to either come up with the facts or concede that the scheme was not designed for its purpose."
Campaigners from motoring groups including the AA, Safe Speed and the Alliance of British Drivers echoed these concerns, suggesting the 60mph limit needn't be in place 24/7 and that it could be causing nothing but frustration from drivers. Iain Stewart, chair of the Transport Select Committee, has also promised to query the issue with National Highways.
A spokesman for National Highways told the Telegraph: "As part of this process, we are taking a series of actions, such as lowering speed limits on some roads. Robust findings informed our decision and these 60mph limits will remain in place until the air quality has met legal limits and will continue to do so when the measure is removed.  
"Given the complexity and amount of data needed, this requires appropriate time to complete all the stages of the analysis process. National Highways is looking to produce initial reports on the performance of the real world 60mph speed limits in spring 2023."
Now learn more about the pollution that your car produces...