Dacia Duster Laureate 4x4: long-term test review
Infotainment upgrade boosts appeal of our Dacia Duster
Mileage: 6,898Real-world fuel economy: 44.3mpg
There's no denying the Dacia Duster represents brilliant value for money. Prices start at just £9,495 for the entry-level petrol-powered version, while our Laureate dCi 110 4x4-diesel model is £15,495, which is thousands less than a basic VW Golf.
Yet while I've been charmed by the Duster's rugged appeal and cut-price running costs since it joined our fleet in December last year, it has been difficult to ignore the fact that the bargain basement price comes at the expense of some desirable equipment.
The most notable omission is digital radio – a staple of most other cars on our fleet. So when in-car entertainment specialist Kenwood offered to install a top-end £600 multimedia unit upgrade, I was keen to take the opportunity.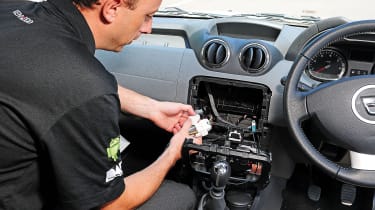 Designed specifically for Dacia models it offers a built-in digital radio tuner, CD/DVD disc drive, iPod and iPhone playback, sat-nav and more, all displayed on an impressive 6.1-inch touchscreen. This represents a marked improvement on the standard head unit, which features a CD player, FM tuner and a USB, but not much else.
There's also Bluetooth for music streaming and hands-free phone calls, but the set-up has repeatedly struggled with background noise, meaning any conversations had to be undertaken at less than 30mph.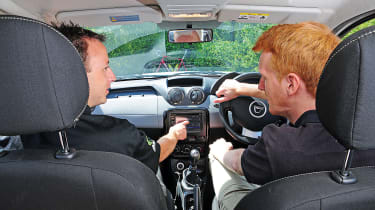 Fitting of the new infotainment system was carried out at Kenwood's UK headquarters in Watford, Hertfordshire. The installation was relatively straightforward, with technician James Howe taking just 20 minutes to slot the unit in.
The upgrade also required very few new parts, with only a facia trim adaptor (£39.99) and an additional wiring harness (£29.99) needed to complete the job.
The result is a brilliantly integrated unit that looks as if it was fitted on the Dacia production line. Plus, because it's been designed from the outset to work with the Romanian brand's cars, I can still use the steering wheel-mounted controls. The DNX4230DAB's sat-nav software is provided by Garmin – recent winner of Auto Express's sat-nav test – so we know it can be relied upon, and has already proven useful on numerous occasions.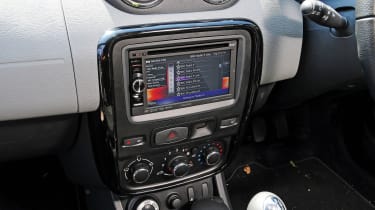 Traffic updates aren't as regular as those on market-leading portable sat-nav devices, but the integrated unit is a great permanent addition to the car. The digital radio has also been a real bonus. Not only does it open up a vast array of stations, the reception has so far proven to be crystal clear. More importantly, the hi-fi upgrade has made spending time in the Dacia that bit more enjoyable, plus it's helped future- proof the car and made it more desirable when the time comes to sell it on.
And of course, there's the constant satisfaction of driving a model that's now got the cutting-edge infotainment you would expect in a premium SUV – but for a fraction of the price.
Dacia Duster: report 3
Roomy Dacia Duster Laureate 4x4 is ideal companion for Tour de France trip
Mileage: 6,522 milesReal-world fuel economy: 42.7mpg
The Tour de France is one of the highlights of my year, so I always make the effort to go on a camping holiday on the other side of the Channel when the race is on – and this year was no exception.
What's more, in our practical Dacia Duster I had the perfect camping companion and Tour chase car. For starters, the Dacia's huge boot easily swallowed all the gear I'd need for a week under canvas in Tournai, Belgium – my base for a few days' spectating. A tent, sleeping bag and mat, cooking tools, a suitcase full of clothes and an assortment of my cycling accessories all fitted easily. There was even enough room left over for my bike.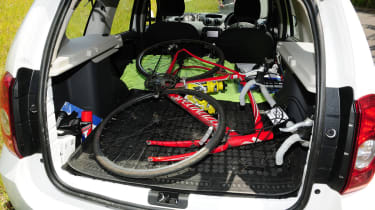 Even with such a hefty load on board, the Duster effortlessly cruised down the M20 to Dover in Kent, where my DFDS ferry to Calais was waiting. The transition between British and foreign roads was smooth in the Duster, as the difference between mph and kph was clear enough on the speedometer, while the car was at ease when cruising at increased motorway speeds.
Once I crossed the Belgian border, the quality of the road surface deteriorated rapidly – huge potholes peppered every motorway and dual carriageway, while most town centres were made up of old cobbled streets. Happily, the Duster's long-travel suspension did a fine job of soaking up any imperfections, and highlighted the car's no-nonsense roots as a rugged rural runaround.
I reached the campsite shortly before the heavens opened (it rained for most of the time I was in Belgium), and I just had time to put up the tent and get settled. Once again the Duster came into its own, as it was able to give shelter for cooking and also for stowing everything away, before it became soaked through by the rain. Basic amenities such as the 12V accessory socket kept my phone's battery topped up, and the stereo picked up French radio for Tour commentary when I wasn't attending a stage.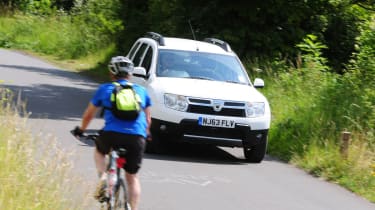 Brilliant though the Duster is, it can't change the weather. So after five rain-lashed days in Belgium I cut my trip short and returned home two days early. The drive back to the UK was just as easy as the outward leg, and despite the higher speed limits on European motorways taking their toll on economy, I only had to fill up once over the course of 500-odd miles.
It's not the fastest or most glamorous way to cross continents, but Dacia's dependable Duster would be top of my list if I had to do the same trip again tomorrow. I'd just check the weather forecast more closely next time...
Dacia Duster: report 2
Crossover has shocked us with its thirst for fuel
Mileage: 3,325Real-world fuel economy: 36.8mpg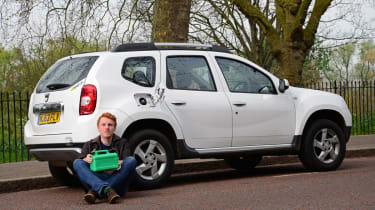 It's just as well the Dacia Duster is cheap to buy, because a series of long motorway journeys has made me realise it's quite expensive to run.
Bizarrely, we found that the Duster was more efficient around town than on the open road – which is contrary to the manufacturer's official figures. They claim urban consumption of 47.9mpg, while we've averaged 41.2mpg. It's the combined figures that are a letdown, though, because while Dacia says it'll manage 53.3mpg, our 1.5 dCi Laureate 4x4 has only been clocking 36.8mpg.
Few cars reach the Holy Grail of a manufacturer's claimed figures, but the Duster has fallen well short, and it's depressing to watch the fuel gauge drop so rapidly as the motorway miles tick by. On a recent 600-mile trip to Cumbria, the Duster guzzled its way through two tanks' worth – or £100 – of diesel. Yet I'd checked the tyre pressures beforehand, kept a close eye on the speed limit and was travelling with little more than myself and an overnight bag aboard.
Other long journeys have been just as pricey and I can't help but wonder if the Duster's hefty body is simply too bulky for the engine to cope. After all, the 1.5-litre dCi was originally designed with small hatchbacks in mind.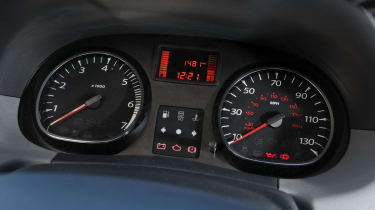 The poor motorway economy has come as a surprise given that the Dacia has a six-speed box. This lets you reach high gears at low speeds, plus sixth is long enough to cruise at low revs – but a lack of insulation means the engine's a bit noisy at motorway speeds.
Despite its thirst, the Dacia is still impressing me with its carrying capacity. The 443-litre boot swallows most big loads, and the standard roof rails are handy. Legroom in the back isn't great, but this car can still take five people, plus luggage, if you can tolerate the strain on the engine.
Overall, the Duster remains a handy sidekick, and its thirst for fuel hasn't dampened my initial enthusiasm too much. For those wanting a crossover on a budget, without paying for extras, the Dacia is still tough to beat.
Dacia Duster: report 1
Bargain SUV is taking the worst of the weather in its stride
Mileage: 1,481Real-world fuel economy: 45mpg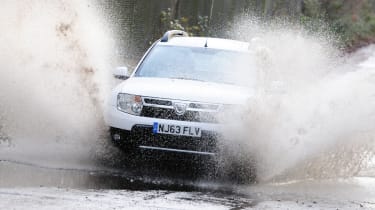 For most people, the recent extreme wind, rain and storms have been a nightmare. But our tough new Dacia Duster has effortlessly shrugged off the filthy weather conditions. With its raised ride height and four-wheel drive, this rugged car has ploughed on where others have ground to a halt.
Okay, so I don't get to make full use of its capabilities all the time, as I live in London, but when I occasionally return to my native rural mid-Sussex, a car that can handle floods and slippery conditions is a must – especially with my Porsche garage-bound in the poor weather.
The Duster has not only come to my rescue more than once when faced with fjord-like water surges on a single-track route, it also saved a man who had abandoned his Jaguar XK after realising a stretch of flooded road was deeper than it looked. Sadly, while the Duster and I were able to pull the two-door out of the water, the extensive damage meant it was destined to be written off.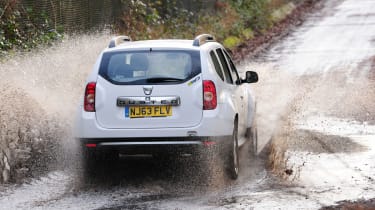 Back in the capital, I might be glad of the Duster's jacked-up body when driving through the odd deep puddle, or take advantage of the 4x4 traction to tackle the muddy track that provides access to the parking space behind my house, but the all-wheel drive is largely redundant.
And that's where the car comes into its own again. Being able to switch between two and four-wheel drive makes the Dacia ideal for city driving. Knock it into the front-wheel-drive setting and the car is noticeably more nimble; put it back in 4x4 mode and it feels sturdy on the road.
However, I've not noticed too much difference in fuel consumption between the settings. Currently, the 1.5-litre dCi diesel averages around 45mpg from fill to fill. This is a little way short of the claimed 53.3mpg, but it's not bad given the car's normal diet of extreme driving conditions; it's either crawling in central London traffic or bowling along national speed limit roads in Sussex. Beyond my spending at the pumps, the Dacia's in a league of its own for penny pinching.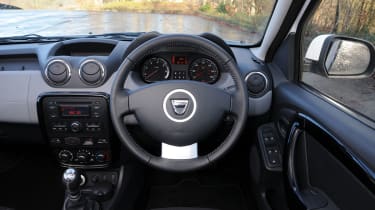 Our £15,495 top-spec Laureate represents stunning value for a compact SUV. True, there are a few features it does without that I'd expect on a new car – such as cruise control and an alarm. But air-con is standard, as is Bluetooth, allowing me to stream music wirelessly from my phone.
The Duster also has plenty of space. On a recent trip to Sussex, I managed to fit loads of stuff in the cavernous boot, while the roomy interior comfortably swallowed five adults. And in my role at Auto Express, testing and reviewing products, it's vital I have a big car to haul the newest tech from location to location.
In fact, the more I drive this car, the more I realise how much thought Dacia has put into the design. And it's paying off, as I'm thoroughly impressed by it. Let's hope our relationship continues to blossom as the weather improves.
Insurance quote provided by AA (0800 107 0680) for a 42-year-old living in Banbury, Oxon, with three points.