Four-star Euro NCAP result for Dacia Sandero
The Dacia Sandero, Renault Captur and Chevrolet Trax are among the latest batch of cars tested by Euro NCAP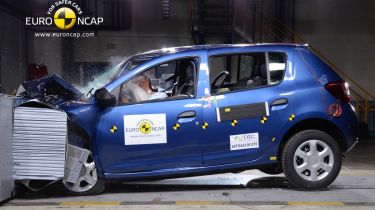 Euro NCAP has just released its latest batch of test results, with the Dacia Sandero scoring a four-star overall crash test result, improving on the previous model's three-star score.
The Sandero scored 80 per cent for adult safety, with Euro NCAP docking the car points for its performance in the side pole test and the whiplash test, which simulates the car being hit from behind.
The car also scored well for protection for child occupants, with a 79 per cent result.
The Sandero was let down by a 57 per cent score for pedestrian protection, as the leading edge of the bonnet was found to offer poor protection, while the car's 55 per cent score for its safety assistance systems reflects its lack of an electronic speed limiter or rear-seat seatbelt reminders.
Despite its four-star score, the Sandero lags behind the latest Clio, which scores a full five stars, including 88 per cent for adult protection and 99 per cent for its safety assistance systems.
Euro NCAP also tested the new Renault Captur, which is based on the Clio, and the Chevrolet Trax. Both models scored a five-star result, with the Trax scoring an impressive 94 per cent for adult crash protection, and the Captur becoming Renault's 15th car to achieve a maximum Euro NCAP score.