DS 5 Hybrid gets the chop in the UK
DS Automobiles will no longer offer the hybrid DS 5 in Britain, citing poor sales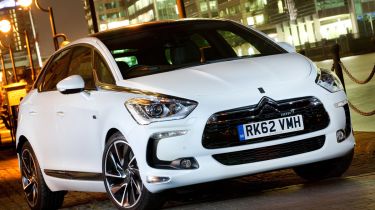 The DS 5 Hybrid has been dropped from the DS 5 range in the UK, with the French brand choosing to remove the slow-selling model as a cost-saving measure.
A DS spokesperson told us that "Sales of DS 5 Diesel Hybrid versions accounted for just 3% of the total DS 5 volume in the UK, September YTD 2016. In light of this, we decided to review the DS 5 range in order to introduce greater efficiencies."
The DS Hybrid4x4 200 model uses a 2.0-litre four-cylinder diesel and an electric motor, returning official fuel economy of 72.4mpg and CO2 emissions of 103g/km. At £33,680, however, it appears that British buyers have been saving their cash by going for cheaper, almost-as-efficient conventional models.
The DS spokesperson also said that "DS Automobiles will be the first brand in the PSA Group to introduce a plug-in petrol hybrid vehicle before the end of 2020."
The plug-in hybrid tech is likely to be used first on DS's forthcoming large SUV, which could be called DS 6. It will make use of the fact that the plug-in hybrid version of PSA's EMP2 platform - which currently underpins the Peugeot 308 - can be front-wheel drive or use electric motors in the rear axle to offer four-wheel drive.
The big DS SUV is due to launch across Europe and China in late 2018, which makes the proposed debut of the plug-in hybrid version in 2019 logistically feasible.
Read more DS news and reviews here...