How Osprey is driving EV charging growth in the UK
Osprey's expansion will create more than 150 new charging hubs in the UK – here's a look at the company and the technology it deploys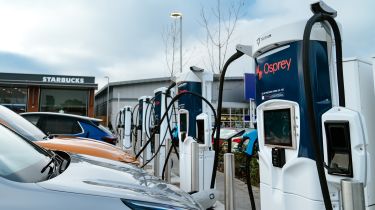 Advertisement feature from

The electrification of the car industry has been gathering pace for some time, with manufacturers keenly focused on the 2030 ban on the sale of new petrol or diesel vehicles.
Recent research from Auto Express publisher Autovia found that more drivers are now expecting to buy an electric car than a petrol-powered model for the first time (34 per cent of those polled opted for EV against 18 per cent for petrol and 10 per cent diesel). However, the survey showed that there are still concerns about access to charging points and how that could limit our journeys.
There's a clear need to bring the UK's charging infrastructure up to speed, giving prospective EV owners the assurances they need around range and charging anxiety so they can make the switch with confidence. Osprey is one such network helping to accelerate charging growth in the UK through a £75 million UK hub rollout commitment over the next three years. Here's a closer look at Osprey Charging Network, its charging hubs, and its plans for 2022 and beyond.
Who is Osprey?
Osprey is one of the fastest-growing UK networks of rapid EV charging points, with the goal of putting multiple super-fast chargers into convenient locations where drivers need service the most. Osprey operates over 300 open-access charging units that cater to every kind of rapid-charging electric vehicle.
Based in London, Osprey partners with commercial landlords and local authorities to install and manage EV charging destinations and en-route stations, everywhere from local car parks to supermarkets. Their proximity to retail and food outlets mean EV owners can spend their time usefully whilst getting the power they need, whether that's doing the weekly shop or enjoying a mid-journey coffee. Furthermore, Osprey is supported by 100 per cent renewable power through Octopus Energy.
The current Osprey network consists of more than 165 live locations spanning the breadth of the UK. Many of these are situated on major trunk roads and A-roads, placed to help drivers avoid making lengthy detours. As well as locations at retail parks and coffee chains, Osprey has also partnered with Marston's, making it the first pub group in the UK to roll out rapid chargers.
What are Osprey charging hubs?
Each Osprey hub has a minimum of four chargers (London, for example, has two six-charger hubs), and they can easily be located using Zap-Map, Google Maps, WattsUp or the Osprey app, with each giving you live availability. At every hub you'll find CCS and CHAdeMO connectors for rapid DC charging, offering compatibility with all new rapid-charging EV models sold in the UK.
Osprey's technology explained
There are four different types of rapid charger in the Osprey network – all are equipped with CCS and CHAdeMO connectors, but each boasts a different maximum charge rate. The Raption 50's charge rate goes up to 50kW, Tritium RTM75's is 75kW, Kempower is 150kW and Tritium PK-175 is 175kW.
Osprey's deployment of Kempower charge points brings pioneering technology to the UK. The new Osprey Wolverhampton hub was the first to bring these online, offering a dynamic load balancing capability that optimises charging across multiple vehicles when several EVs are plugged in. Total site power is distributed by car demand, which can vary based on several factors such as a car's maximum charge rate and battery percentage. Higher charge-rate cars are given more power, and as one car's demand drops off the Kempower system re-distributes that power to another car.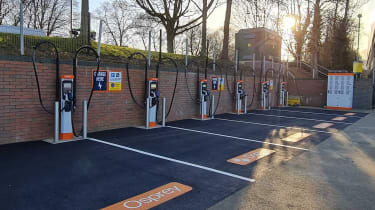 This clever balancing of power for each vehicle at the charging hub cuts down on waiting times, making each charger more efficient and improving availability for drivers. According to Osprey, a Kempower station can add up to 100 miles of charge in as little as 10 minutes.
Partnership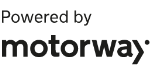 Need to sell your car?
Find your best offer from over 5,000+ dealers. It's that easy.
One major advantage of charging with Osprey is that you don't need a membership to get started. Payment can be made at the charging station through contactless debit or credit card, ApplePay or Android Pay. You simply find an empty charging point, select your payment type, plug your EV in and then you're away. The cost? Osprey has a flat rate of 40p per kWh for use across its rapid charging network.
Using the Osprey app
Though membership isn't required to use Osprey, one way to get the most from the network is by downloading its app, available on both the App Store and Google Play. You can use it to locate available charging stations on the network, view live session details, check on your charge history and quickly download VAT receipts.
Plus, frequent users of Osprey charging stations can be billed monthly for charging sessions via direct debit. It's also possible to pay with an Osprey RFID card, and you can link that up to your account through the app to keep track of payments.
Should you need to, your app account is easily accessible through a web browser, although it's worth noting that you'll need the app itself to start and stop a charging session.
Osprey in 2022 and beyond
With an increasing need for electric vehicle charging points, Osprey is meeting demand with a £75 million investment that will bring a total of 1,500 rapid chargers to 150 hubs across the UK by 2025.
The first of these hubs opened in Wolverhampton in October 2021, followed shortly by a six-charger site in Croydon, and the initial rollout will also bring hubs to Crewe, Glasgow, Birmingham and Banbury. In keeping with Osprey's strategy of targeting high-footfall retail, many of them will be located near outlets such as Currys, Lidl and Costa Coffee.
Ian Johnston, CEO of Osprey, noted that the expansion aims to "make charging anxiety a thing of the past".
"High-powered, multi-charger hubs will herald a new era of public EV charging, enabling mass EV adoption and a clean transport revolution," he said. "Our rollout of hubs across the country's major transport routes will ensure drivers are supported with convenient, reliable, on-the-go charging, delivering the best possible consumer experience for UK motorists."
Osprey's hub roll-out will span the United Kingdom with several locations already announced:
Banbury, M40
Crewe, A534
Brackley, A43
Essex, A127
Suffolk, A14
Glasgow, M8
East Lothian, A1
Birmingham, M6
Scunthorpe, A18
Middlesbrough, A55
Stanley, A693
Find out more about Osprey's UK expansion at ospreycharging.co.uk